Di Maggio No Popoff Guy; Isn't Demanding $80,000

Mr. Yankee Will Get Together With Barrow–
He's the Ball Club and Will Manage to Get Along With It–
Joe's Worth More

By HARRY GRAYSON
NEA Service Sports Editor
NEW YORK, Aug 9.—A sports writer writes that Joseph Paul Di Maggio will demand $80,000 for the privilege of wrecking the Clevelands and the American League in 1942. Though 80 grand would be a fairly inexpensive job of wrecking, Joseph Di Maggio never made such a statement. Its origin no doubt could be traced to a bloke who knows the guy whose brother-in-law heard Joe Di Maggio confide as much to a gas station attendant while waiting for his autograph.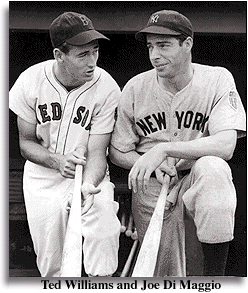 Outfielder Di Maggio is in no sense a pop-off, least of all about his salary.

Two years ago the Yankees' Big Boy held out until the season was well under way.

The record-wrecker finally was forced to sign at a figure well below the one he sought because public opinion was rising against him.

A lot of people were on relief. They asked why Slugger Di Maggio was entitled to so much for taking exercise in the afternoon.

LOOK AT SHIRLEY TEMPLE
When I asked him about this, Di Maggio said: "Sure, I'm a young fellow, and Ed Barrow tells me to take my time–that I'll get it in the end. Well, Shirley Temple got her money when she was young. Suppose she had waited. She might not be able to act a lick when she grows up. I'm hitting the ball now. I'm not pluming myself, but this club ran second until I came along, and I have to get it while the gettings good. Suppose I hurt my knee again? Suppose anything happens to slow me up? I wouldn't have any salary argument then, would I? Barrow would simply say, 'Nix!' and I'd be it for the nearest exit."
Regardless of what Di Maggio is getting, his pay check falls far below the amount his perfect playing merits. He held out again last spring.
While fortunate to wind up with the New Yorks who can afford to pay him the amount to which he is entitled, Di Maggio was unfortunate in crashing the Yankees a comparatively short time after the Great George Herman Ruth.
Babe Ruth ask for and got a record $80,000 for long-range clouting.
Fans get stirred up when another fellow, even though he easily might be a better all-around player, comes along and demands something approaching what their idol made.
In a sense, Di Maggio's case proves there is a penalty for having too much natural ability … being too good in the beginning.
But Di Maggio will not hold out again. When it comes time to talk contract, he'll sit down with President Barrow and they'll get together in a jiffy.
Di Maggio is now a New York institution, and he has decided to remain here—in and out of season—to grow up with the big town and the Yankees.
Di Maggio is vastly bigger than Di Maggio, the ball player.
He's the Yankees.
And a little thing like money will never separate Joe Di Maggio and the New York American League Baseball Club.
The San Francisco News
Saturday, August 9, 1941
---
Joe Di Maggio's pre-war 56-game hitting streak (May 15-July 16, 1941) won him the nickname "Joltin' Joe," and the day before this newspaper article was printed a hit recording about his hitting streak was cut by Les Brown and his Orchestra, in New York, for Columbia Records. Columbia 38554 rose to No. 12 on the charts, and reflected the esteem with which Americans held him. The recording, "Joltin' Joe Di Maggio," can be heard here in RealAudio. The flip side of this novelty was "The Nickel Serenade," also recorded August 8, 1941.
The Di Maggio song was also recorded by Teddy Powell and his Orchestra in 1941 as a "Soundie," filmed for use in rear-projection juke boxes that were installed in bars, nightclubs, and other entertainment spots, by the Mills Novelty Company of Chicago. Soundies were popular between 1941 and the demise of the company in 1947. The Teddy Powell Soundie featured the song's co-author Alan Courtney, and singers Peggy Mann and Tommy Taylor. Teddy Powell, incidentally, was a native of Oakland.
Harry Grayson, the NEA sportswriter, was also author of They Played the Game, the Story of Baseball Greats, published in New York, A. S. Barnes and Company [1944].
---
Photograph courtesy of The Baseball Gallery.
---
Return to the top of the page.