JOE IS "PICTURE BATTER"
AT PLATE
Joe leads both major leagues in home runs, with 22. Until today's game he had hit seven homers in the last seven games.
A right-handed hitter, Di Maggio is a picture batter at the plate. He doesn't fidget, hitch his pants, tuck at his cap, adjust his legs, wiggle his bat or go through any other useless gyrations. He just stands there and waits for the pitcher to throw the ball. And when his sharp eyes flash a message to the brain: "This is the one to hit," he goes into action. A hit by Di Maggio is always a pleasure to see. The ball zooms like a tri-motor plane.
Yesterday's hitting by Di Maggio has been matched by few players. He completed the cycle by walking, hitting a single, a double, a triple and a homer. He hit for a total of 14 bases and drove in seven runs. Altogether, he has scored 65 runs in 62 games, and driven in 74.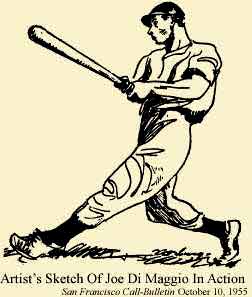 Di Maggio, only 22, was a freshman last year. He hit 29 homers. Now, that he's grown up, he may threaten Ruth's home run mark of 60, set in 1927, before the year is out. If anyone is to break Ruth's mark it must be done this year, because the majors have adopted a dead ball for 1938. The mightiest sluggers in baseball—Lou Gehrig, Jimmy Foxx, Hack Wilson, Hank Greenberg— have all failed to top Ruth's mark. The closest approach was by Foxx, who hit 58 in 1932.
Di Maggio is only a trifle behind Ruth's record- breaking schedule. Babe hit his 22nd homer in 1927 on June 16 and on July 10 had 29. But that season opened a week earlier than the 1937 season. Also Di Maggio has missed six games because of a sore arm and a tonsil operation. If Joe had those six games back he might be all even with Babe's 1927 record-smashing home run time table.
JOE UNDER BIG HANDICAP
Gehrig has never hit more than 49 homers in one season. Di Maggio will give that mark a fit, even if he doesn't threaten Ruth's record. Joe is under a bigger handicap hitting at Yankee Stadium than was Ruth. The right field line is 295 feet from the plate and it was less than that in Babe's prime. The left field foul line is 301 feet from the plate and the stands cut away at a sharper angle than they do in right field.
He has hit at least one homer against every club an made at least one in every park except Boston and Cleveland.
---
IN: Chronicle Sporting Green
July 11, 1937
---
United Press sports writer George Turner Kirksey (1904-1971) was the subject of the book, The George Kirksey Story : Bringing Major League Baseball to Houston, by Campbell B. Titchener. The book was published in 1989 by Eakin Press of Austin, Texas.
Return to the top of the page.