---
City-Market Street Ry. Deal May Bring Some Street Work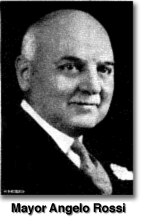 Possibility that the Market Street Railway Co. would undertake immediate repaving of a number of downtown streets today hinged on the Board of Supervisors' approval of a "deal" Mayor Rossi proposed yesterday to the trolley company.
The company recently sought permission to substitute buses for the Washington and Clay-st cable line, but the supervisors voted down the petition on the mayor's request that no further "favors" be extended until the company agreed to make some badly-needed improvements on its own.
Yesterday the mayor agreed to withdraw his ban when company officials promised, in return, to lift the car tracks on Leavenworth-st from McAllister to Ellis-st, on Battery-st from Market to California-st, on Bush-st from Sansome to Battery, and on Sansome-st from Bush to Sutter.
Parking Facilities
The company also promised to remove 305 feet of tracks on Fillmore-st north of Chestnut, so that the middle of the street may be used for a parking area.
The company was to pay for the track-lifting, for filling in the ruts and for taking down the wires and poles. The city, according to the "deal" with the mayor, was to pave the concrete fills on Fillmore-st and Leavenworth-st, and the company was to do the remainder of the paving.
Resurfacing planned
The city, as part of the bargain, also was to resurface the rest of Battery, Bush and Sansome-sts, in the financial district. The city was to spend about $3600; the Market Street Railway Co. about $8500 to fulfill its promises.
As for the rails on the Sacramento-st line, which the city also would like to see removed, the company agreed to do that within five years if allowed to substitute buses. It would repave only the part of the street occupied by the rails, however, leaving the cable slot in the center. The same procedure was followed in abandoning the Castro-st and Fillmore-st lines.
However, before the "deal" may be consummated the company must resubmit its application to the supervisors. There was some indication that it might again be rejected, despite the mayor's revised attitude.
Would Build Nuisance Value
Some supervisors pointed out that the improvements would have the effect of enhancing the value of the company, which the city is contemplating seeking to buy out.
Permission to substitute the buses would have the effect of becoming a revised "operating permit" for the company, but would not extend the term of the company's franchise, which expires in 1956. The buses would be substituted for the unexpired term of the franchise.
---
San Francisco News
August 8, 1941
Return to the top of the page.