---
Clay Street Cable Car Ends its Run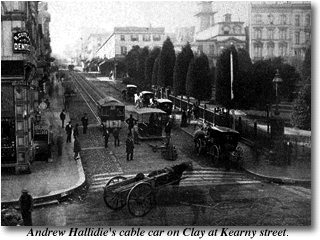 It is worthy to remark that the Clay-street cable cars have ceased to run. The last car on the old line left Powell and Clay streets at 11:30 o'clock on Wednesday night with a number of railway officials and a few of the old-timers who had worked on the road for a number of years.
At Van Ness avenue Assistant Superintendent Skinner broke a bottle of champagne over the grip, and the line ceased to be. The dummy and car were then turned into the roundhouse, and there they will remain until bought up as curiosities or sent to the World's Fair.
The Clay-street cable line was the first ever operated in the world. The first car ran up the hill on August 18, 1873, A.S. Hallidie, the inventor, handling the grip.
The original line was from Kearny to Jones street. It was afterwards extended to Van Ness avenue. The Ferries and Cliff House Company, which owns the Clay-street line, will soon begin laying a new track for its line from the ferries to Central avenue, and Clay street will be used as the avenue for the down-town travel.
San Francisco News Letter
September 12, 1891
---
For more about San Francisco street and cable cars, see