Dancin' With Anson
Anson Weeks (1896 - 1969)
---
Hear a nine-minute 1932 Anson Weeks broadcast in RealAudio, or MPEG3.
Hear a restored 1932 version of "You Little So-and-So," with vocal by Bill Moreing in MP3.
---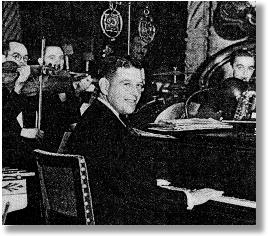 Oakland-born Anson Weeks was king of Nob Hill hotel dance bands during the 1920s and 30s, with a long run at Hotel Mark Hopkins.
He formed his first band in 1924, and played in many famed Oakland and Sacramento hotels. In 1925, his band cut a test disc in Oakland for Victor Talking Machine Co., but, apparently, Victor executives failed to offer a contract, and the recording of "New Moon" was never issued. By the late 1920s the Anson Weeks orchestra was increasingly popular along the West Coast, because of nightly radio broadcasts.
His big recording break came in May 1928 when Columbia Records waxed "Dream House" and "Wob-a-ly Walk."
January 29, 1929 saw his first recordings as "Anson Weeks and His Hotel Mark Hopkins Orchestra" for Columbia Records. He recorded under the Hotel Mark Hopkins moniker through 1932.
Weeks broadcast almost nightly in 1930 from Hotel Mark Hopkins, for KFRC, and NBCs West Coast network. His "Lucky Strike Magic Carpet" radio program was broadcast coast-to-coast from the Mark on NBC during 1931.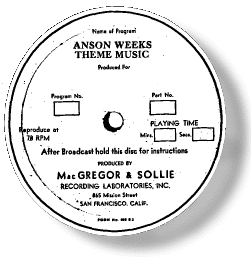 A five-minute sample of those MacGregor and Sollie transcriptions may be heard here.
The three songs excerpted from the Hotel Mark Hopkins broadcasts are valuable examples of what made Weeks' orchestra one of the most danceable in the nation. The excerpt opens with Mr. Bunker discussing the success of the orchestra, in Peacock Court of Hotel Mark Hopkins, with Anson Weeks. That is the cue to begin a two-song medley, "Singin' in the Rain" introduced in the M-G-M talking picture The Hollywood Revue of 1929, and the old standard, "Sweet Georgia Brown." The third selection from this broadcast excerpt is a very obscure, but outstanding example of why Anson Weeks was so popular. "'Round My Heart" showcases a sensational piano duet performed by Mr. Weeks, and future bandleader Griff Williams. The duet begins quietly behind the vocal chorus, and then continues for a chorus. Note that a string bass is used through most of the performance, and then a tuba is used following the piano duet. "'Round My Heart" is copyright 1932 by Famous Music (now Paramount-owned). Lyrics are by Joe Young, with music by Carmen Lombardo, the co-composer of "Coquette" and other hit songs of the era.
A second, almost complete Anson Weeks broadcast, is available online. This broadcast features the original 1932 opening announcement, first and second selections, and the closing song of the broadcast. The medley has been deleted for two reasons; first, it was relatively pedestrian and deletion of four minutes of the broadcast keeps the nine-minute MP3 file to about 1 meg.
This broadcast opens with Walter Bunker, Jr., introducing a new George and Ira Gershwin song, "Delicious," from the motion picture of the same name. The second song of the broadcast, sung by Pete Fylling, is "Why?" written by Arthur Swanstrom, J. Fred Coots and Benny Davis. It is from the show "Sons O' Guns."
Dialogue between Mr. Bunker and Mr. Weeks, extolling Hotel Mark Hopkins, is intact through the introduction of the medley. The medley has been deleted, and the recording goes directly from the introduction to the last song, "China Boy," by Dick Winfree and Phil Boutelje; the treatment of which strongly suggests that the Weeks organization could have been a formidable jazz presence in San Francisco.
This broadcast was digitally encoded from the 1932 MacGregor and Sollie transcription disc in the possession of Jack Bethards. Walter Bunker, Jr., the announcer, told the Museum's webmaster that these broadcasts were recorded directly to disc, with no retakes because there were then no editing facilities for wax recordings. Mr. Bunker currently (2000) lives in Pebble Beach, California.
Bing Crosby recorded one of his early best-selling recordings, "Please," with Anson Weeks and the orchestra, September 16, 1932, at the MacGregor and Sollie studio.
The early- and mid-30s saw a string of hit Columbia and Brunswick recordings by Weeks, some with vocals by Bing's brother Bob Crosby, Carl Ravazza, Kay St. Germaine, and Dale Evans — later known as "Queen of the West," after her marriage to cowboy star Roy Rogers.
Weeks, injured in a 1941 automobile accident, left the band business, but returned in the late 1940s.
1956 brought a revival of Weeks' career when his six-piece orchestra opened at the Palace Hotel in downtown San Francisco for a long run, and he recorded three albums for Fantasy Records. During the 60s he fronted a combo, mostly in the Sacramento area, and died there February 7, 1969.
---
Dave Fowler
March 1999

Anson Weeks' MacGregor and Sollie transcriptions courtesy of Jack Bethards.
Photograph courtesy of Peter Mintun.
"You Little So-and-So" disc-to-tape transfer 1972 by Ed Linotti and Dave Fowler. Introduced by Marlene Dietrich in the Paramount film "Blonde Venus." 1999 digital restoration and MP3 transfer by Dave Fowler and Rob Roberts.