Merriam-Sinclair Battle Outstanding
in National Political Scene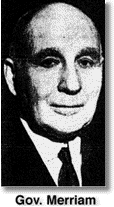 The pre-election campaign, warming up in other States, continued at fever heat in California where Upton Sinclair, ex-Socialist and Democratic candidate for Governor, is running against Frank F. Merriam, conservative Republican incumbent.
Governor Merriam is calling on his supporters to fight against "radicalism and Socialism."
"There is no other issue before us," he says.
He dismisses Mr. Sinclair's End Poverty in California proposals as "flimsy and unreal... utterly misguided... completely impossible of realization... dangerously unsafe and destructive." The Sinclair program, says Governor Merriam, "contemplates a new and burdensome superstructure of taxation upon a people already hard-pressed by an endless chain of local, State and Federal taxes."
Mr. Sinclair, he adds, has made promises which he can not carry out if elected, "but the mere attempt to put into practice many of the theories and untried proposals advanced by radical and Socialistic propagandists will add to our already heavy deficit in State finances and will invite bankruptcy for many of California's important industries."
He points pridefully to the special session of the California Legislature which he called and through which he forced measures dealing with old-age pensions, assistance for the unemployed and relief for certain classes of debtors. Party lines must be swept aside in the interest of alleviating human suffering, he says. He refuses to engage in "contest of promises which we know, even as they are uttered, can not be fulfilled, or, if possibly realized, would entail greater injustice, greater suffering, and greater confusion than now exists," but he does pledge himself to "forward reforms in government, which are to be reflected in greater efficiency and in absolute unswerving economy."
Out of California last week came a scary story which some of Mr. Merriam's supporters called grave and important and some of Mr. Sinclair's supporters called a silly bogey raised for political purposes.
It told of an alleged flight of capital from California, which was supposed to be attributable to Mr. Sinclair's candidacy and to be reflected in a declining price for California securities, notably State, county, and city bonds.
Adding still another voice to the loud California chorus, George Creel, Mr. Sinclair's unsuccessful opponent for the nomination, denied that the Democratic State platform on which the latter is running embodies his EPIC PLAN. "Instead of being a Sinclair platform, our State platform is one upon which any Democrat can stand," Mr. Creel declared last week.
---
The Literary Digest
October 13, 1934