Fong Wan, Chinese Herbalist
Fong Wan became well known in San Francisco through newspaper advertisements for his herbal medical treatment. He ran the ads in San Francisco newspapers from the early 1930s into the 1950s. The ads were always the same size, same layout, and featured similar photographs of the herbalist through the decades.
These weren't ordinary advertisements, because he would often detail in them the latest attacks by the U.S. Government on his herbal practice. The advertisement on this page tells of his acquittal in a 1932 court case after he was charged with postal fraud.
He was so well known by 1949 that "Chronicle" writer Dick Hemp profiled Fong Wan in a two-part series.
---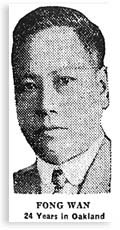 THEY SEE NO SMOKE:
THEY SAY THERE'S NO FIRE
Extracts of various Chinese herbal remedies have been subject to chemical processes in order to precipitate their elements. However, many kinds of herbs and roots show nothing in the test tube; consequently, the chemists cannot determine their uses. For example, a chemist is never able to discover the elements in the Ginseng Root which is a wonderful remedy in building up the air circulation in the body. For the past fifty centuries the Chinese have used Ginseng Root to strengthen the air circulation and have combined it with other herbal remedies to improve the blood circulation. Articles written by chemists or pharmacists frequently appear in the newspapers ridiculing the Chinese as being superstitious in believing that Ginseng has great medicinal value. Because these writers cannot see the curing of the smoke, they say there is no fire.
The Case Below Absolutely Proved That Chemists Have No Knowledge of Chinese Herbs
Approximately $20,000.00 spent in an attempt to prove that Chinese Herbs possessed no curative qualities failed to discredit them before the Federal Jury.
The Postal Inspector had a similar case indicted in San Francisco. The defendant pleaded guilty and was placed on probation for 5 years. Four days later the Inspector indicted Fong Wan, but he was unwilling to submit to such injustice. Knowing that 1931 was his unlucky year, he asked his lawyer to have the case postponed until after the first day of Spring, 1932. Then he pushed forward to have the case tried.
The trial lasted 8 days. Thousands of dollars were spent by the prosecution in bringing witnesses such as numerous Postmasters from Eastern States, chemist from Washington, D.C., physicians from various places, and Instructors from two universities.
Although the accusations covered the period from September, 1929, to March, 1932, there was no evidence that Fong Wan had used the mails to defraud, and the Jury returned a verdict of "NOT GUILTY."
There is no better proof of the curative properties of the Chinese Herbs than that established during this trial in the United States Federal Court, and therefore in the long run this case really did Fong Wan more good than harm.
RESULTS OBTAINED FROM FONG WAN HERBS
The following persons who suffered from Arthritis, Tuberculosis, Stomach Ulcers, Diabetes, Heart Trouble, Dropsy, Malignant Growths, Prostate Gland, Paralysis, Kidney Trouble and Obesity have benefited by taking the Fong Wan Herbs. Some of them have testified to the postal inspector from Washington, D.C., and others have cheerfully testified before a Federal Jury and expressed their gratitude for having obtained relief from their ailments though the use of the Fong Wan Herbs.
Residing in Oakland and Vicinity—
Mrs. C.E. Grapentin, Mrs. J. Mead, Mr. O.E. Foster, Mr. Robt. Bishop, Mr. William DeMooy, Mrs. C.A. Brown, Mr. Chas. Cushman, Miss M. Souza, Mr. G. Souza, Mr. M. Souza, Mrs. F. McKeever, Mr. John O'Brien, Mrs. L. Paxton., Mrs. N. Long, Mr. R. Lemieux, Mr. W. Lentz, Mr. H. Sommarstrom and Mr. R. Mitchell.
Mr. John Hocker and Mr. M.F. Cain of Hayward, Mr. J. Wortman and Mrs. E. Kennedy of Vallejo, Miss L. Niles of Pacific Grove and Mr. Harold Hodge of Berkeley.
All persons who feel interested in the Herbs are invited to interview Fong Wan at any time without charge or obligation
FONG WAN
576 TENTH STREET, OAKLAND, CALIF. PHONE HI GATE 3767
Open Daily from 9 A.M. to 7 P.M.
Sunday for Out-of-Town Patrons from 9 A.M. to 12 Noon
FONG WAN'S NEW 1934 "HERB LORE"
Complimentary at the Office
---
Advertisement in the San Francisco Chronicle
May 6, 1934
Return to top of page