---
GROWTH OF DEFENSE AROUND BAY
Vast Ring of Bases Keeps Up Constant Vigil Against Attack
By George Rhodes
Call-Bulletin Staff Writer
San Francisco is hub of a vast concentration of military bases, with a history as old as the nation.
With the possible exception of New York, more major military commands are headquartered in the San Francisco bay area than in any other U. S. metropolitan area.
These military headquarters and many satellite operating bases provide a powerful defense against attack from air and sea:
Presidio–Established in San Francisco in 1776, present headquarters of Sixth Army, location of Letterman Army Hospital and Nike guided missile launching sites; 1,367 acres, largest military reservation inside any city in U. S.; 10,000 military and civilian employes, Crissy Field is Army helicopter and light plane center.
Fort Mason–Established east of Presidio on Marina 1797, present headquarters of Army's Pacific Transportation and Terminal Command and Military Sea Transportation Service-Pacific; location of MSTS transport docks, 68.5 acres includes warehouses and Army housing; total military and civilian working force, including Oakland Army Terminal, 3,800.
Fort Baker –This Marin County base is the nerve center of the widespread Nike guided missiles system which guards the Pacific Coast against air attack. Headquarters of Sixth Anti-Aircraft Artillery Regional Command with subsidiary commands and units at nearby Forts Barry and Cronkhite in Marin County, Fort Scott in San Francisco, Angel Island and many others.
Fort Ord–Established in 1917 near Monterey and Carmel, one of nation's important troop training centers; 29,000 acres of plains and hills. Population about 15,000 military and 1,826 civilian employes.
Hunter Liggett Military Reservation–Adjacent to Fort Ord, acquired in 1940 from the late William Randolph Hearst. Its 201,000 acres provide terrain for realistic training of regular Army, National Guard and Reserve personnel during summer when thousands report for annual two weeks' duty.
Hamilton Air Force Base –Established July 3, 1930; headquarters of Western Air Defense Force, responsible for air defense capability of Western United States; headquarters of Twenty-eighth Air Division, Eighty-third and Eighty-fourth Fighter-Interceptor Squadrons and the Forty-first Air Rescue Squadron; site of Air Force Hospital; Fourth Air Force headquarters; population about 5,000 military, 2,000 civilians; located northern Marin County, about 2,000 acres.
Travis Air Force Base–Near Fairfield in Solano County, this Strategic Air Command base is headquarters of the Fourteenth Air Division, Fifth (Atomic) Bombardment Wing, the 1501st Air Transport Wing of the Military Air-Transport Service and a large hospital; more than 10,000 acres; population about 10,000 military and 1,200 civilians.
Twelfth Naval District–Headquarters at Federal Office Building in San Francisco-Civic Center is administrative center for nearly 60,000 civilian employes of 53 Navy and Marine Corps activities in the district, mostly in the Bay Area.
San Francisco Naval Shipyard–Located at Hunters Point, San Francisco, on 638 acres of waterfront; employes 8,500 civilians; Navy's Radiation Defense Laboratory here; Pacific Reserve Fleet units here; established as commercial shipyard 85 years ago, acquired by Navy 11 days before Pearl Harbor.
Mare Island–Oldest naval shipyard on the Pacific Coast, established 101 years ago; 4,351 acres includes shipyard and hospital areas; employs 13,000 civilians.
Treasure Island and adjacent Yerba Buena Island–In mid-San Francisco Bay, Commodore John D. Sloat landed Marines at Yerba Buena July 9, 1846; total 525 acres; combined population of about l2,000 Navy men and women; headquarters of Western Sea Frontier, Naval Schools Command and Port Control.
Alameda Naval Air Station–Established on 2,473 east Bay shoreline acres in 1940; employes approximately 8,300 civilians primarily in aircraft overhaul and repair and naval air supply; headquarters for Fleet Air Pacific, aircraft carrier based units and seaplanes.
Moffett Field–On west shore of San Francisco Bay, 1,993 acres in Santa Clara County; established in 1930; famed for site of wind tunnels of National Advisory Committee for Aeronautics: Ames Laboratory; bases research planes and Fleet Logistics Wing transport planes, fighter-interceptor and carrier-based bombers.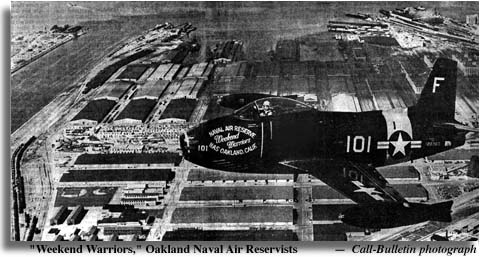 Oakland Naval Air Station–Located at Oakland International Airport, it is headquarters for Naval Air Reserve's famed "Week-end Warriors" who fly helicopters, jets and blimps during week-end training; 65 acres.
Oakland Naval Supply Center–Established at Oakland outer harbor just before World War II, it employs 9,000 civilians including those who work at its Stockton annex; acreage at Oakland NSC 518, with 1,433 at Stockton.
Port Chicago Naval Magazine–located on northwest shore of Contra County on 6,585 acres, it houses vast stores of powerful explosives of most types for ships and aircraft of the fleet.
Naval Hospital, Oakland– On 343 acres in East Oakland, employs 800 persons.
Naval Post Graduate School, Monterey–Established following end of World War II on 604 acres; population, administrative and students, about 2,000.
Marine Corps Department of Pacific Headquarters–Located at 100 Harrison street, it employes about 2,000 civilians and directs operations of Marine establishments in the Twelfth, Thirteenth and Seventeenth Naval Districts and of Marine detachments afloat in Pacific.
---
S.F. Call-Bulletin
Monday, October 10, 1955
---
Return to the top of the page.