---
Real Sendoff Is in Store at Fort Ord
by Stanton Delaplane
---
A big gun show is getting its final polish today.
Tomorrow afternoon, in the big outdoor theater at Fort Ord, 30,000 soldiers will be given a farewell party sponsored by The Chronicle–a giant show of stars, girls and music, headed by comedian Joe E. Brown.
At the end of the week, Fort Ord's soldiers will leave for two weeks' maneuvers in the north.
Waiting to transport a cast of 75 to the Monterey training center, are two sleek Greyhound cruisers and motorcycle patrolmen from here to Salinas.
Chief Dullea's motor men will siren the cavalcade to the city limits where it will be picked up by an escort of Captain Andy Ford's State highway patrolmen.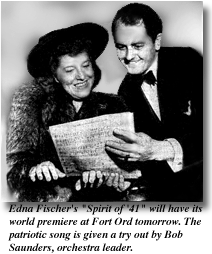 Chief E. Raymond Cato of the State highway Patrol has ordered additional escorts to join the parade at each county line.
And at Salinas, a military escort of jeeps and command cars will join up and stars will ride the galloping jeeps to camp.
The big show includes every star playing the Northern California field.
By special permission of the Musicians' Union, there will be three orchestras on the big outdoor stage.
Carl Ravazza and his Palace Hotel band will take one side of the stage. Bob Saunders from the Bal Tabarin will be on the other.
Robert Nurok and his group, who have been playing background to Joe E. Brown in his recent run at the Alcazar, will be the third orchestra in the entertainment list.
The entire Bal Tabarin show has been donated by Tom Gerun of that night club.
Romo Vincent, master of ceremonies will head the list and will sing the world premiere of Edna Fischer's song "Spirit of '41."
The Helene Hughes dancers, 11 girls of the chorus, will run through their precise routines.
Senor Wences and Jimmy Rae, ventriloquist and acrobatic dancer from the Bal, will perform.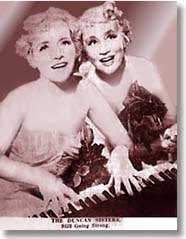 Gertrude Niesen will be featured in her South American music.
The Duncan Sisters are coming from the Lido with their prima donna, Gueneth Omeron.
The Rogers dancers are coming from the St. Francis with orchestra leader Matty Malneck to direct their number.
Paul Speegle of The Chronicle, already at Fort Ord, to make final arrangements for the show, will double–a piece of monologue and behind scenes stage manager.
The show people who have volunteered their time to give a good-by party for 30,000 soldiers going north for maneuvers, will be guests of Fort Ord at luncheon.
A half hour after luncheon will be used for dressing and quick rehearsal.
The show will go on between 1 and 2 o'clock. Fort Ord's new model amplifying system will carry the show clearly through a half mile circle of seats.
It's [a] holiday at Fort Ord.
---
San Francisco Chronicle
Sunday, August 10, 1941
---
War Games: Armies Tense, Await Invader
FORT LEWIS, Wash., Aug. 9 (AP)–Staff officers of the 9th Army Corps were informed today a large military force of "Oriental origin" was hovering in a fog bank somewhere off the coast of Oregon and Washington, attempting to make a landing.
They were told to keep near a telephone at all times Sunday night. Umpires hinted to newspapermen that the first reports of the successful enemy landing and the start of a blitzkreig invasion would be received at Fort Lewis around 2 a.m. Monday.
Lieutenant General John L. Dewitt, commander of the 4th Army, and his staff from San Francisco, arrived in Tacoma yesterday afternoon. He immediately conferred with Major General Kenyon A. Joyce, commander of the 9th Army Corps, on last-minute details of the coming Pacific Northwest Army maneuvers including about 100,000 troops.
General Dewitt reported he had already ordered Fort Worden, located at the entrance of Puget Sound, to be on the alert so enemy fleets will not be able to creep into sound waters and blast the cities of Seattle and Tacoma.
Motorists on the Pacific Highway reported today an Army convoy 90 miles long was moving through Oregon and into enemy territory in the Grays Harbor district of Washington.
---
San Francisco Chronicle
Sunday, August 10, 1941
Return to top of page