20,000 Civilians to Be Needed
For State Aircraft Warning
---
Plans for emergency fire fighting and an elaborate volunteer air raid warning system were under consideration today by members of the California Civil Defense Council.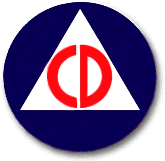 It met here yesterday with Governor Olson and heard that the aircraft warning program, as outlined by Richard Graves of Berkeley, executive director of the council, will require 20,000 civilian volunteers manning 1664 observation posts throughout the state.
Mr. Graves said he hoped that the aircraft warning program would be completed by Oct. 15, and that a thorough test could be made by the Army Air Corps. There have been rehearsals, on a small scale, both on the East and West Coasts, of air raid protection.
The present plan calls for 15 volunteers to each station, with stations scattered through nearly every county in the state. In Kern County, where there are extensive oil fields, there would be 110 stations, San Francisco would have five.
In general, the system is modeled on the British. When a post sights an enemy plane, a flash is sent to the nearest of several "filter" centers. It is then relayed to a central "information center" operated by the Army Air Corps. This center is in touch with the interceptor command at all times.
The program will be worked out further by L.M. Benedict of Sacramento, chief co-ordinator of civilian defense, and Major John C. Gray, representing the Fourth Interceptor Command. meetings will be held throughout the state.
The fire-fighting program drawn up by [California State] Fire Marshal Lydell Peck, provides for enlargement of municipal fire departments, establishment of emergency fire stations, enlistment of civilians in fire brigades, establishment of lookout stations and voluntary purchase by big industries of fire-fighting equipment.
San Francisco News
August 9, 1941
---
Return to the top of the page.