Fair in '40
Dream Will Come True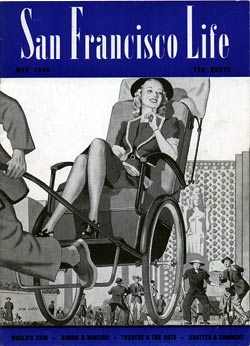 Santa Claus paid an early visit yesterday to jam San Francisco's stockings with the best anybody could ask for–a new and more glorious Golden Gate International Exposition in 1940!
The role of Kris Kringle and his reindeer was played by Burton J. Wyman, Federal Court referee, when he affixed the words, "order to confirm is granted" to a batch of legal papers handed to him in his Market street offices.
Will Shine for 18 Weeks of New Year
Shorn of legal camouflage and lawyer-like verbosity, these papers meant simply that Treasure Island will blossom again with wonders and fun-making, with light, color and happiness, for 18 brief weeks next year, and that the world will beat a path to the Pacific once more to sample the hospitality of San Francisco and California as it did in '39.
Wyman's pen scratched approval to a plan submitted by Randell Larson, attorney for the San Francisco Bay Exposition Corporation, attorneys for the men and the corporations, to which the fair owes $4,189,213.84, and meeting with the approval of all.
Dates for Opening, Closing Announced
The fair will open Saturday, May 25, and close on Sunday, September 29, or a run of a little more than four months, according to tentative dates already decided upon.
But above these names, and above the names of all others when the success of the "Fair in '40" will have been history, will be written one other. It will be that of George D. Smith, hotel [Mark Hopkins] man and civic leader.
Smith was the one man in San Francisco who refused to believe when nearly everyone else said there was no possibility of a second year for the fair.
When tough creditors and discouraged boosters had beaten down the optimism, it was Smith who held on and refused to "listen to reason." And the agreement which won the approval of the Federal Court yesterday was largely the result of one man's efforts and work–George D. Smith.
In the flush of final victory, Smith was just as filled with enthusiasm and new plans for the fair as he has been during the sometimes disheartening campaign to reopen the fair. And as he sat in his office on top of Nob Hill and listened to the Ferry building siren shriek out the song of victory, as it always tells of any unusual event in San Francisco, Smith was "just beginning to fight."
"The Fair in '40 will be so much greater than the '39 fair that there won't be any comparison" exulted the victor. "It'll still be 'Treasure Island,' but it'll also be 'Pleasure Island.'
"Next year the first rule behind every consideration for the fair will be to have a good time. All else will be secondary."
Plans Sputter Out in Rapid Fire
Smith fairly spluttered as he outlined what the new fair will have to offer. As the attractions poured out of him like champagne from a newly opened magnum, it appeared more than any one man could cope with.
Eighty per cent of this year's big exhibitors are waiting to have papers shoved at 'em to sign.
In place of the other 20 percent there are so many more waiting that those who didn't re-sign will look foolish!
The movie industry is going to take over a whole exhibit palace to show how the flickers are made, produced, exhibited and whatnot.
The lagoon will be transformed into a display of lights, fountains and music that will dwarf anything along a similar line seen at the New York Fair.
Billy Rose will bring his Aquacade here; the Coliseum will be moved to accommodate it. There will be one of the most elaborate Ice Follies shows ever staged; there will be streamlined Shakespearean repertory; Chrysler wants to erect its own building; Ford will be back in its own house; General Motors will install its "Highways of Tomorrow" that proved such a success in New York!
Gayway to Blaze Out Bigger, Better
The Gayway, bigger and better than ever, will be moved nearer to the center of the island by stretching it up the Avenue of Olives. International Business Machines will double its exhibit space, the University of California will have a much greater exhibit; the State of California and the counties will enlarge and improve their exhibits; the Yerba Buena Club will be reorganized and reopened.
Eastman Kodak, Kraft Cheese will come in, there will be more shows, more free entertainment, more name bands and big names of all kinds.
One might think Smith would pause for break here, but he doesn't! He goes on and on.
Herbert Fleishhacker has already completed plans to bring the best of American art to replace the $39,000,000 worth of old masters housed this year in the Palace of Fine and Decorative Arts. He has also secured promises of loans from New York, Washington, Cleveland, Pittsburgh and Chicago. The Thorne model rooms will be back.
It is impossible to listen to Smith for a few minutes and not get enthusiastic about Treasure Island in 1940. If it isn't quite a party it won't be this hotel man's fault.
Agreement Gives All Creditors a Share
The agreement to which Wyman affixed his signature is comparatively simple. Creditors have been divided into two classes, those who want to play and those who don't. The latter will be paid off on the exact basis they would have been paid had the fair been abandoned and torn down now. The others will defer their payments until after next year's operation, when they will sit in at a split of the "kitty" as it exists then.
The exposition corporation will continue to operate the fair through its executive committee of 10 men, augmented by five additional appointed from the creditors' committee.
Only resignation from the creditor's committee was that of J.J. Hunter of the Bank of California, consistent opponent of a 1940 reopening.
The others whose names were added to the executive committee are Clarence Eaton, contractor; Harry H. Hilp, contractor; Don W. Messer, hotel supply man; B.W. Letcher, general auditor for the Standard Oil Company of California, and George W. Brainard of the Board of Trade. Brainard was also appointed "disbursing agent" for the new fair, all monies to be received and paid by him by authority of the Federal Court.
The 10 remaining members of the executive committee are Leland W. Cutler, George D. Smith, James B. Black, Philip H. Patchin, Colbert Coldwell, J. Ward Mailliard Jr., George Creel, Alfred J. Cleary, Atholl McBean and John F. Forbes.
The augmented committee will meet, probably next Tuesday, to begin the promotion and publicity work, make all plans for operation and generally get the ball rolling.
Retention of Board Will Be Urged
Until the committee meets nothing further concerning the operation and management can be definitely stated. But Smith, thus far the Fair's only spokesman, said the former Board of Management, consisting of Patchin, Black, Coldwell and Mailliard, would be asked to remain in charge.
Smith said he favors the retention, in an advisory capacity at least, of Dr. Charles H. Strub, managing director during the final—and most successful—days of the 1939 Fair.
If he can prevent it, said Smith, there will be no big salaries in Fair management next year.
Smith favors keeping admission charged to 50 cents, with reductions or bargain days and for purchasers of large blocks. The parking charge will be 25 cents, half of the first year, he said.
The goal of the four months of operation will be 5,000,000 attendance, said Smith, which will ensure a profit in operation and a successful year. This compares with the 20,000,000 the first year, scarcely half of which was reached.
---
San Francisco Chronicle
Saturday, December 23, 1939
---
Return to the top of the page.