THE IDEAL SAN FRANCISCO
By Mayor James D. Phelan
---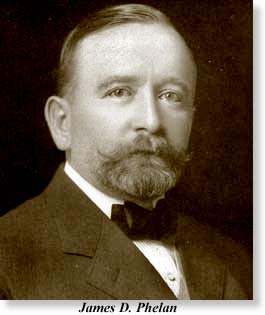 Apart from the consideration of utility, there is much to be done to make San Francisco an ideal city. There are citizens utilitarian in their lives, as well as in their aspirations, and this class must be educated to an appreciation of the beautiful, before they will give their vote and support to any movement whose end is beauty.
This is not an easy task, when it is known that San Francisco cannot be metamorphosed without incurring municipal indebtedness, and that two-thirds of the electors are required by law to give their assent to the issuance of bonds.
The rough work of the building of a city has been successfully accomplished in San Francisco. The forest, as it were, has been cleared, the land has been tilled, the promise is abundant. We must bank on that. The circulation of the medium of exchange, if wisely directed it not necessarily waste nor extravagance, but new wealth is thereby made and prosperity invited.
San Francisco must act on the theory; that the future is on her side; there is no good reason to doubt it, and no progress can be made without it.
We are told that "the banks are full of money," but that improvements are not made, nor enterprises inaugurated, because the population does not warrant it; but business makes business. Certainly population will not come unless there are facilities for handling population, and inducements offered, nor can prosperity accept an invitation that is not sent.
"Capital is timid," but success comes only of courage. San Francisco is in the position of a young merchant, whose future depends on the clearness of his vision, the boldness of his enterprise, the steadiness of his hand. He borrows with confidence, knowing his ability to repay; he surveys the field in which he is to make his operations, and satisfies himself that it will yield abundant returns.
The old merchant, who has slowly accumulated his own capital, like some of the older cities, has no need to borrow money, nor any occasion to make extraordinary expenditures.
It is said in England that a national debt is a national blessing. I do not know what that means, unless it be that the proceeds of the debt are invested in public works of all kinds, by land or sea, and that the pride of the people is excited by the beauty and strength of their country, and they will therefore make sacrifices for its preservation and defense.
To fight for one's country is only second to make one's country worth fighting for. Anything that can wed the people to the soil is a distinct national advantage; anything that will awaken the pride of the people in their city is a priceless boon.
With money San Francisco can reduce its death-rate by improved sanitation; it could possess its own public utilities, as water and artificial light, and save us the moral humiliation of perennial corruption, which dims our civic pride and embitters our political life.
It can make the streets afford pleasure to all who use them. It could, imitating Paris, Berlin and Vienna, wed our superb [Golden Gate] Park to the city, by connecting it with the business and residence portion by beautiful boulevards, green with foliage; and, by thus holding and attracting a large population, it would bring business and profit to every industry; for we know that the great capitals of Europe vie with each other in physical attractions, and that beauty has a marvelous money-making faculty.
Then would follow museums, galleries of art and theaters, until San Francisco, by reason of its remarkable meteorological advantages, would assume the position of the most beautiful city in America, and its population the most artistic and pleasure-loving, drawing to its realm myriads of strangers from year to year.
The influence of beauty would not be lost on the rising generation; and whereas we might at first have to import talent, thereafter our native population would be educated to such a degree of perfection by reason of its environment, that artists and musicians, and men and women of taste would be a distinguishing part of this now cosmopolitan, but then American community.
We are far enough away from the great cities of the East to develop an individuality, and that very remoteness makes it incumbent upon us to work out our own salvation.
San Francisco would be an ideal city when this fact is engrafted upon the minds of a majority of its people. A new charter, giving us a responsible government, without which honesty and efficiency cannot be secured, will serve to hasten the realization of "The Ideal City," which we all approve in the abstract, and yet for which so few were willing to seriously strive, and for which so very few are willing to pay. I have the utmost confidence, however, in its ultimate consummation.
---
San Francisco News Letter
Christmas Number, 1897