GOLDEN RULE FIRST IN CITY
Miners Eagerly Await Opening of Emporium's Store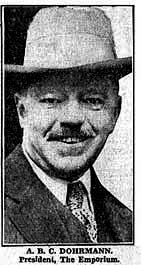 San Francisco was the feverish center of another gold rush in 1872 – a rush of wild speculation in the great hydraulic and quartz mines during which hundreds lost their fortunes and dozens of firms failed.
In this fermenting time the Golden Rule Bazaar opened it doors under the leadership of the Davis Bros.
All San Francisco was eager to inspect the new store– the only bazaar on the Pacific Coast and one of the first in the United States.
Before long the Golden Rule had outgrown its original building and by 1893 occupied three separate stores.
That year Adolph Feist leased a building on Market-st below Fifth, with the idea of turning it into a large department store, hoping to interest an Eastern concern in the venture. This failing, he was obliged to organize his own company based on a loose co-operative basis, renting space to individual merchants, and in 1896, with great pomp, the new store – the Emporium – stood open.
But the business did not thrive. It lacked centralized policy and management. F.W. Dohrman saw possibilities in the project, in spite of general opinion that any department store south of Market-st must fail. Through his efforts the Golden Rule Bazaar and the Emporium were merged.
Soon a well-knit organization was thriving and the store became a popular social as well as shopping center, with band concerts every Saturday night.
From 1898 to 1906 an unbroken line of success forged the Emporium up among the leaders of the city's retail trade. For two and one-half years after the [1906 earthquake and] fire, the Emporium maintained a temporary "crossroads" store on Van Ness-av while quarters were being erected on the old Market-st site.
The new building with 775,000 square feet of floor space, a glass arcade, lofty dome, solid mahogany fixtures, and the new grocery department, the Emporium ranked among the greatest department stores in the country. Today, it is still the largest store in San Francisco.
The San Francisco News
Monday, October 14, 1935