---
We hope you will enjoy your visit to our Museum.
We survive with your generous donations, please show your appreciation with a tax deductable donation.

---
sfmuseum.org is ...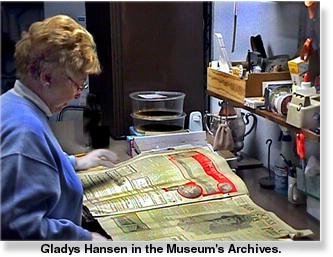 We are The Museum of the City of San Francisco. Under the past direction of our curator, Gladys Hansen, our goal was to bring the fabled history of San Francisco into the light of historical accuracy. Our new director Richard Hansen continues with this goal. Please visit our site often as we will continue our mission with articles on new subjects and continue the enrichment of the existing materials on the site.
Mission Statement:
The Virtual Museum of the City of San Francisco, sfmuseum.org, functions as a general multi-media website utilizing text, graphics, and sounds. We are primarily a research and educational site for scholars, young and old. Our site features the interesting, the amusing, and the unusual in San Francisco's history.
How can we serve you?
Our organization has a select staff that can assist you in many different ways.

Sales:
1906 Earthquake Photos:
Do you wish to use the photos or content of our web pages for your project?
CLICK HERE FOR 1906 Photos

Licensing:
Do you wish to use the photos or content of our web pages for your project?
CLICK HERE FOR LICENSING

Contact Us...

We welcome any e-mail comments and inquiries. Our volume of e-mail is such that we cannot guarantee an immediate reply. Our e-mail address is curator@sfmuseum.org

We are eager to be the recipient of photographs and ephemera. We are especially interested in any 1906 materials. However, if you would like to donate other historical artifacts, we will suggest organizations that would be interested in receiving your donation.

To the millions of friends who throughout the years have watched us grow we thank you for your support and hope you will continue to visit our site