San Francisco's activist labor priest Father Peter Yorke was known for often taking direct action, as this article demonstrates.

As the fire swept the South-of-Market district, St. Mary's Hospital, then at First and Bryant streets, was evacuated by the Sacramento River steamer "Modoc" which took the patients to Oakland. Those patients ultimately ended up at his Parish church.

A street in the Cathederal Hill section of San Francisco is named for Father Yorke.
---
FATHER YORKE SAYS CITY'S RED TAPE IS BAD
SAYS IT WILL PROVE TO BE SAN FRANCISCO'S UNDOING
---
Two incidents marred the harmony of the meeting with General Greely yesterday morning, when President Roosevelt's personal representative, Secretary of Commerce and Labor Victor H. Metcalf, was present. While H. Schussler, engineer for the Spring Valley [Water] Company was addressing the gathering, Father P.C. Yorke, pastor of St. Anthony's Church, Oakland, interrupted the speaker.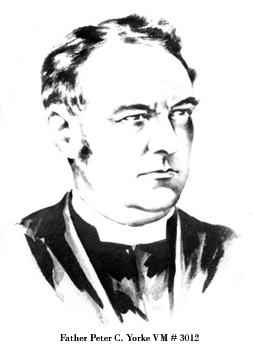 "Wait a moment," said Father Yorke. "I am here to find out if it is possible to get cots for 200 aged and infirm women without unraveling all the red tape in San Francisco."
He then explained that the inmates of St. Mary's Hospital had been transferred to St. Anthony's parish, and that he had been trying for several days to secure cots for them.
"These old women," he declared, "are sleeping on the floor. I have gone from one committee to another, and have been put off here with promises and there with more promises. I want 200 cots today and possibly 1,000 more tomorrow. Do you think I am going to steal your cots that you refuse to give them to me?"
"Mr. Mayor," said the priest, "you will be held personally responsible if with red tape you strangle American charity. If the present policy of administering assistance is continued, San Francisco twenty years hence will not be the greatest city of the Pacific Coast, but a fishing hamlet. I have nothing more to say."
He left the room before the Mayor could reply.
John S. Drum was directed by Mayor Schmitz to furnish Father Yorke with the cots required.
Scarcely had the excitement caused by this incident quieted, when Schussler continued his remarks concerning the water system. He was explaining the necessity for shutting off the water until the reservoirs could be filled, saying that it was necessary to have strong pressure in the mains to discover all the breaks and also to fill the reservoirs. "How long will it take to fill the reservoirs?" asked the Mayor. "I don't know," answered Schussler sharply. His manner more than words appeared to irritate the Mayor, who said: "Well, if you don't know, it's time for the city of San Francisco to own a water supply it can control, and a supply of which we can receive some definite knowledge."
"You are doing politics!" exclaimed Schussler.
From all sides of the room came calls of "No, no."
"The water system is like a sieve with 10,000 holes," declared Schussler. "Stop the waste and we will get our reservoirs filled." Schussler wanted all house connections, with the exception of four to every city block, immediately discontinued. It was through the house connections that the great waste of water occurred that prevented the mains from filling.
Congressman Julius Kahn arose and turned to Schussler.
"When will you be able to get water into the reservoirs?" he asked. "How many days required?"
"One day," said Schussler.
"Oh," said the Mayor, "that is all we want to know, now we'll give you three days for the purpose."
Thus the heated controversy was brought to a close, and Schussler insisted on shaking hands with the Mayor and assuring him that there was no [hard] feeling on his side.
Engineer Schussler devoted considerable time to an explanation of water conditions before the row started. He explained that the pipes were badly strained in many places, and he was doing his best "to coax" water through them. The College Hill reservoir is being filled, and the pressure is being sent the length of Valencia street to Market. He expected to send the water down to Fifth street shortly.
"The great trouble," he said, "is the waste. The waste of water was not so great during the first few days of the trouble, but in a large area of the city people acting, I understand, under permission or direction from the health authorities, are flushing their toilets with water. This order ought to be canceled. At the present time 2,500,000 gallons of water are flowing through the Eighteenth- street sewer where you can see it measured. I am powerless to remedy this condition. It is for you to stop this waste of water. If I were running this city I would stop the use of water throughout the entire city except from four taps on each block. Then I could get the reservoirs full. We cannot discover breaks until we get a good pressure in the mains sufficient to forces the water up through the bituminous pavements or gutters. So long as the bituminous pavements are intact leaks in the mains cannot be discovered without a heavy pressure of water. As fast as we discover these leaks we are putting in temporary repairs. Pipes are being cut off on each side of the break and stopped with redwood plugs. We have hundreds of these temporary repairs all over town."
Chairman Dillman of the water committee declared that house connections had been cut off in 400 blocks, and his committee was instructed to continue this work. It was also decided to ask the health authorities to countermand the order permitting people to flush their toilets with water.
Schussler wanted permission to install a temporary pumping station in the city park at Twenty-sixth and Harrison streets. Park Commissioner Metson jumped to his feet and told him to go ahead. Schussler wanted to know how long the park could be occupied for that purpose, declaring that it would cost tens of thousands of dollars to move the pumping plant to the temporary location. He was told very abruptly that the water company would be allowed to maintain it there as long as there was any need for it.
---
This is a combination of two stories; from the San Francisco Examiner, April 29, 1906 p.4 and the San Francisco Chronicle, April 29, 1906 p.2c1. The Chronicle article is titled "Water Discussion Brings Dissention."
---
Return to the 1906 Earthquake Exhibit.