SAN FRANCISCO, Cal., Friday.—James D. Phelan, chairman of the Relief Committee; Allan Pollock, member of the same committee, and Dr. Edward T. Devine, at the head of the Red Cross Association and President Roosevelt's special representative in the local relief work, are attacked as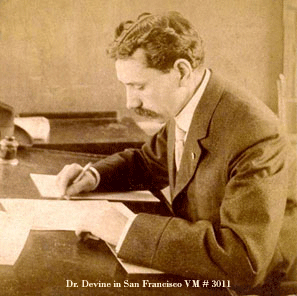 traitors in a printed circular, copies of which are scattered in the streets and refugee camps. The resignation of Dr. Devine is demanded, and it is intimated that unless Phelan and Pollack sever their connection with the Finance Committee they will be tarred and feathered. The documents are signed "The Committee of the Whole," an organization of refugees, of which Joseph M. Clark, who lives in tent No. 703, Jefferson square, is secretary. He denies all knowledge of the circular, but states that its tone is to mild to suit him.
Phelan says Clark came to him on Friday and attempted to sell out the Committee of the Whole, and later tried to blackmail Phelan. His clerk, who saw Clark at Relief Headquarters, asserts that the man came there twice before he was permitted to enter Phelan's office.
"The circular is true," Clark said when seen. "These men should be forced to resign. But the statements contained in it are not strong enough for us. In a few days we shall issue an eight page pamphlet that will be such a broadside that even Roosevelt, at Oyster Bay, will sit up and take notice of it.
"I admit going to see Phelan, but did not go there to sell information concerning the meetings of the Committee of the Whole. On the contrary, I went there for transportation East for my wife."
Associated with Clark in the committee is Alva Udell, an attorney. He has petitioned President Roosevelt, Secretary of War Taft and others high in authority to remove the ration funds from the custody of the Finance Committee and place them in the hands of the refugees. These petitions, some of which contained violent attacks on the Finance Committee, were referred to the Finance Committee by the President and the Secretary of War.
Two cars containing shoes and wearing apparel for sufferers in this city have been lost en route from Chicago according to Colonel Peppy, chief of the Relief Board. Colonel Peppy stated yesterday that the consignment was started from Chicago over a month ago and that no record of it was obtainable from the railroad company which had been unable to locate it.
New York Evening Telegram
July 20, 1906