---
San Francisco Fire Department
Alvarado Road Fire Operations

Oakland Division C
Berkeley Division A

Engine Companies 6, 7, 13 and 25
Battalion 9
Citizen-Volunteers

---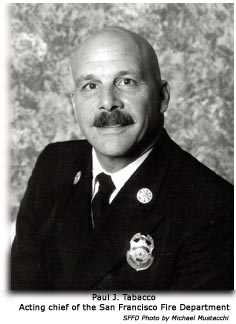 Battalion Chief Paul Tabacco's strategy was to stop the northwest front of the conflagration before it attacked the hotel. He felt that this strategy would also save downtown Berkeley from destruction.

He was not aware that a strike team from southern Alameda County had been assigned to this division from the staging area on state Highway 24, and was then working its way into the conflagration zone along Alvarado Rd. above the Claremont Hotel.

Captain Richard Brown of Castro Valley Engine 5 wrote: "Below us we could see crews from San Francisco setting up aerials and large monitors around the perimeter of the hotel," as his strike team moved along the crest of the hill.

Upon climbing to the first level of Alvarado Rd., Battalion Chief Tabacco saw that many of the homes there were already fully involved in fire and some had burned to the foundations. This destruction of homes and structures in the 200- to-500 blocks along the switchback of Alvarado Rd. included at least one Bernard Maybeck-designed mansion. He also saw the firefront simultaneously move laterally northwest and southwest toward the 100 and 600 blocks.

At 1:54 p.m., Oakland Captain Parker radioed to Oakland Fire Alarm that "This is Division Commander C. I have a report from Berkeley Fire that on Alvarado we have approximately 50 houses on fire. They're asking for evacuation." Transcripts of the Oakland department's radio tapes did not record an acknowledgement of this radio transmission.

Captain Underwood's crew from San Francisco Engine 25 – operating on foot – first attacked the fire along the 100 block of Alvarado Rd. with water pumped by his apparatus 500-feet uphill from the Claremont Hotel. This crew was not at full strength because the pump operator was left with the apparatus, and another member of Engine 25 was detailed to the Oakland Department aerial water tower in the mid-level parking lot.

Lieutenant Roland D. Lee – the officer of San Francisco Engine 7 – was first assigned to the San Francisco command post at the Claremont Hotel, and his apparatus replaced Piedmont Engine 2 which was moved up to Alvarado Rd. His crew led two three-inch lines which belonged to the Piedmont Fire Department to the Oakland aerial water tower. He then ordered the extension of almost 600 feet of three-inch line – gathered from various apparatus at the command post – up the steep hillside behind the hotel to the firefront along the 100 block of Alvarado Rd.

Officers along the fire lines also carried several adapters with them during the conflagration that allowed connection of San Francisco Fire Department hose couplings to those of other departments.

Battalion Chief Tabacco then ordered lines led from Hayward Engine 2 – already connected to a functioning hydrant across from 115 Alvarado Rd. – through the yards of homes along the 100 block of that street to prevent the fire from running downhill.

Downed power lines, utility poles and firebrands – as well as the fierce lateral and downward sweep of the firefront – made movement of apparatus impossible, and hose leads were advanced with extreme difficulty in the steep and heavily-wooded terrain. The heavy fire volume driven by erratic winds up to 65 mph made these excessively long leads a necessity.

At 3 p.m., hand lines removed from Hayward Engine 2 were carried by firefighters to a functioning hydrant in front of 625 Alvarado Rd. There was sufficient pressure here and leads were taken directly from the hydrant because it was not possible to move apparatus to that location.

San Francisco firefighters also fought to prevent the conflagration from jumping to the southwest side of Alvarado Rd. or continuing farther along the street. Battalion Chief Tabacco then attempted to extend leads from a hydrant at Alvarado Rd. and Slater Lane, but this hydrant was dry.

Chief's Aide Bryant, at 3 p.m. by Department radio, relayed to Central Fire Alarm Station a request from the Claremont command post for more firefighters from San Francisco. Four minutes later, he notified Battalion Chief Tabacco by Department radio that the conflagration was sweeping over the hill and was two blocks away from the Claremont Hotel. He said: "There's a heavily-wooded area between us and the fire and it's roaring."

Assistant Chief Hickey and Battalion Chief Seyler arrived at about this time at the San Francisco command post.

Chief Postel ordered Temporary Battalion Chief Roybal to lead an additional force of 20 recalled firefighters along with Attack Hose Tender 7 to the Claremont Hotel because of these Department radio reports of fearsome fire conditions within the conflagration zone.

Chief's Aide Bryant further advised Battalion Chief Tabacco by Department radio at 3:28 p.m. that citizen-volunteers were en route from the Claremont Hotel to assist him with suppression operations along Alvarado Rd.

"Citizens had been showing up as stragglers," said Chief's Aide Bryant, "and I started organizing them, at first using them as runners to carry hose and fittings, and later on, in assisting in advancing hose leads up in the Alvarado Rd. area," he said.

"They started showing up at the command post and asking `What can I do?' I told them to standby for a minute, and I talked by Department radio to Battalion Chief Tabacco, and he said: `Have them start carrying equipment up to assist units up here'."

"I then led them up the trail to where the chief was along Alvarado," said Chief's Aide Bryant.

These volunteers included 15 students from the University of California at Berkeley who had equipped themselves with shovels, and told hotel officials they wanted to "assist the hotel any way they could," according to Sharon Kaitner of the hotel's staff.

Several of the UC students assisted in spraying the eucalyptus grove behind the building with water from the building's hose line. One student brought a cellular telephone for emergency use by firefighters.

Other citizens, or "convergent volunteers," also flocked to the hotel, eager to assist in the firefighting efforts.

Battalion Chief Tabacco had gained valuable experience with management and deployment of citizen-volunteers during fire and rescue operations in the Marina District following the October 17, 1989 earthquake, and he teamed these volunteers with individual company officers.

Earlier, at 3:15 p.m., Strike Team 12 of the South Alameda County task force had taken a position at Alvarado Rd. and Alvarado Pl. Fremont Engine 1053 took the hydrant there and supplied Union City Fire Department Engine 1 with a five-inch line and San Leandro firefighters with a three-inch line. Castro Valley Engine 5 was also part of this task force.

Captain Richard B. Dickinson of the Fremont Fire Department, commander of Engine 1053, was concerned with the high fire potential and the fire danger to apparatus caused by trees and thick foliage in the area, and in his report on operations wrote that he asked the strike team leader for permission to fell all trees along both sides of Alvarado Rd. to form a fuelbreak. This request was denied; the Claremont command post said no trees would be felled at the request of the mayor. His report did not specify which mayor or which city.

All the one-and-three-quarter-inch lines were removed from the Fremont apparatus and extended into the back yards behind the homes on Alvarado Rd. Firefighters were ready to make a stand at Alvarado Rd. and Alvarado Pl.

Fremont Captain Dickinson said, "All the lines were extended from Strike Team 12. The San Leandro engine backed into Alvarado Pl., then the Union City rig backed in, then we backed in too and took the hydrant. The fire was coming over the hill and had crested about two blocks above us."

The crew of Castro Valley Engine 5 extended one-and-one-half inch lines to homes in the 100 block, and as it extinguished the fire at 111 Alvarado Rd., "We heard a woman screaming for help behind a fence so we knocked a hole in the fence and found [that] she was cornered in another yard by the fire," wrote Castro Valley Capt. Brown in his report.

"We knocked the fence down of the yard where she was trapped... and told her to retreat from the area. She was a photographer who was taking pictures of the oncoming fire when she got trapped," he wrote.

"We were the strike team at Hiller Highlands," said Fremont Capt. Dickinson, "and found all the bodies, so we knew how fast this thing could move. From that point we figured it would hit us pretty quick.

"Over to the north of us was the stairway [Eucalyptus Path]," he said, "and my thoughts were that there were strike teams above us, but there weren't. We did a reconnaissance mission and met firefighters who were pulling five-inch line they had taken from our rig" down the path.

Shortly after 3:15 p.m., Assistant Chief Hickey drove Mini-pumper 43 part way up Alvarado Rd. as far as Eucalyptus Path. "I couldn't get any farther because there were rigs, hoselays and downed power lines blocking the roadway. I saw Paul Tabacco who gave me a progress report, and then we got some additional people up from the San Francisco command post."

San Francisco Engine 7's crew – now composed of two firefighters and two citizen-volunteers – with the assistance of firefighters from Engine 13 – made an initial attack upon the fires burning 633 Alvarado Rd. and the neighboring home at 637 with a one-and-one-half-inch line supplied by Hayward Engine 2.

This lead was pulled uphill to the rear yard of 633, but the fire volume on either side of the structure was so great that Lt. Lee extended the lead into the burning house.

The crew of Engine 7 put out the fire in this building then pulled the lead out the front door to the street. The lead was about one-and-one-half blocks long.

Lieutenant Lee's crew advanced the line across the street to 624 where he, Firefighter James R. Kircher and two citizen-volunteers dragged the charged line up the stairway to the porch of the burning structure. Fire had weakened the porch supports and the two firefighters fell as it collapsed. "As soon as I made some headway," said Lt. Lee, "I told them to pass the line up. Then, I went through porch. I suffered a hip injury, and Kircher went off [injured] also with a hip injury."

Nick Bamont of Oakland, one of those citizen-volunteers, grabbed Lt. Lee and Firefighter Kircher and kept them from falling farther into the opening, which saved the pair from serious injury or possible death.

Mr. Bamont said, "We threw bricks through the living room windows so we could spray in the interior of the house. Then we pulled more hose and went up on the front porch.

"I was helping Lt. Lee when Jim [Kircher] came up behind us," said Mr. Bamont. "That's when the porch collapsed and Roland and the firefighter fell in the hole. There was fire under them when I pulled them out."

The crew of Engine 6 came and put out the fire burning beneath Lt. Lee and Firefighter Kircher.

Mr. Bamont also had praise for Lt. Lee, an 18-year veteran of the Department. "When the firefighters got too fatigued," he said, "Lt. Lee had us handling the nozzle. He stood right behind us and told us where to spray the water – what hot spots to hit. I felt so comfortable with him – I would go in anywhere with him."

Mr. Bamont and John Dove, also of Oakland, participated as members of Lt. Lee's company throughout the afternoon and evening until relieved by firefighters brought from the City.

Messrs. Bamont and Dove and the crew from Engine 7 were instrumental in saving 624, 630, 633 and 637 Alvarado Rd. They were also involved in the attempt to save 625, but that structure was lost to the conflagration. The crew of San Francisco Engine 6 saved 688 Alvarado Rd.

Lieutenant Lee said, "Bamont and Dove worked like pack mules; they were humping hose back and forth, and running down and getting fittings. It made our company more effective having them with us."

Fierce winds in excess of 70 mph began to push the firefront with greater speed in a northwesterly direction toward their location in the 600 block of Alvarado Rd. It swept from Gravatt Dr. above them, and in rapid succession burned homes along Grand View Dr. and Vicente Rd. to Alvarado Rd.

Battalion Chief Tabacco ordered lines extended farther up the steep hillside from 688 Alvarado Rd. in the direction of Gravatt Dr. Firefighters and citizen-volunteers who pulled those lines were met with tremendous fire volume and excessively hot and dry fire-generated winds which pushed the firefront directly at them.

The crew of Engine 13, under the command of Capt. Mambretti, led a three-inch line from the Hayward apparatus and prevented the fire from jumping to the southwest side of the 600 block Alvarado Rd. from the northwest, protecting homes and other structures in that area.

At 4 p.m., crews from San Francisco Engine Companies 6 and 17 reached Gravatt Dr. on foot and the firefighters saved the houses at 2, 8 and 16. All other homes and structures on both sides of that street were fully involved in fire and were soon destroyed.

Use of the seven-eighth-inch Gorter nozzle tip in this area was particularly effective under these extreme fire conditions. This appliance was developed by Henry Gorter of the San Francisco Fire Department's fire shop shortly after the 1906 Earthquake and Fire.

The tip allows a concentrated stream of water to be thrown long distances in conflagration conditions, and was placed in service in 1910. The Gorter nozzle remains a major component of the Department's suppression tactics. The stream from a Gorter nozzle equipped with a seven-eighth-inch tip – at 150 psi – can be cleanly thrown through a three- foot-diameter opening at 100 feet.

Shortly after 4 p.m., East Bay Municipal Utility District spokeswoman Ida McClendon told a Bay City News Service reporter that the 500,000 gallon Amito Reservoir was empty because the pumps had been disabled by failure of the PG&E electric supply. This tank supplied hydrants in the Alvarado Rd. and Gravatt Dr. area. The story was transmitted at 4:05 p.m. to media newsrooms, but the information did not get to the San Francisco command post.

A preliminary report on the conflagration prepared by the Federal Emergency Management Agency suggests that the Amito tank went dry at about 3 p.m.

Fremont Engine 1053 had earlier been assigned to the hydrant at 115 Alvarado Rd. at the foot of Eucalyptus Path to supply the five-inch lead to Union City Engine 1 and the three-inch lead to San Leandro firefighters. This three-inch lead was further extended up the hill by engine relay at about 4 p.m. Eucalyptus Path is a 1,000-foot stairway in excess of 40 percent grade which cuts across the uphill switchback from the 100 to the 600 block of Alvarado Rd.

Pleasanton Captain Paul B. Molkenburhr with a crew of ten hiked from the 100 block of Alvarado Rd. to the top of Eucalyptus Path, leaving the apparatus at Alvarado Rd. and Bridge Rd. "We had been ordered to lay three-inch lines taken from a Castro Valley engine and extend a previously laid line farther up Eucalyptus Path."

The captain said: "After we hand-stretched the three-inch line and put in wyes, we put one-and-one-half-inch lines to work, and at the top of the path we attacked and suppressed the fire in a large A-frame structure."

Battalion Chief Tabacco held a hurried conference with Hayward Battalion Chief O'Sullivan on Alvarado Rd. Battalion Chief O'Sullivan then returned to the Claremont Hotel to get assistance in clearing the roadway so street apparatus could be brought into position.

Assistant Chief Hickey heard Department radio messages about the downed power lines, exploding power transformers, gas meters and automobiles. He asked the Oakland command post to dispatch PG&E crews to shut off all gas and electric service to the hill area above the Claremont Hotel where Battalion Chief Tabacco was operating.

He also asked the command post to dispatch an East Bay Municipal Utility District crew to attempt to increase water pressure to those hydrants still functioning in the lower Alvarado Rd. area.

After suppressing the fire at the top of Eucalyptus Path, Pleasanton Capt. Molkenburhr walked back down Alvarado Rd. and surveyed hydrants, but found them all dry between Bridge Rd. and Eucalyptus Path.

Leonard DeStefano, an off-duty Chief's Aide assigned to the Chief of Department, came up to the Alvarado Rd. command post. "Battalion Chief Tabacco said he needed a rig for a pump relay, so I found the Pleasanton rig and uncoupled him from the hydrant," he said.

The Pleasanton captain then met a PG&E employee who was clearing away lines near his engine parked at Bridge Rd. Captain Molkenburhr asked his help in clearing downed power lines and other wires so the apparatus could be brought up Alvarado Rd.

Pleasanton Engine 61 was brought along the road as the PG&E employee walked ahead cutting through fallen wires. The crew of the apparatus also cleared away fallen transformers and street light poles.

The engine was brought to the top of Eucalyptus Path, where the crew laid 150 feet of five-inch hose down hill.

This five-inch hoselay supervised by Hayward Battalion Chief O'Sullivan began at the foot of Eucalyptus Path and paralleled an existing three-inch line. Leads were pulled by firefighters and citizen-volunteers from each end by hand and were joined along Eucalyptus Path. This effort took more than one hour and the total length of this hoselay was in excess of 2,500 feet at greater than 45-percent grade.

Pleasanton Capt. Molkenburhr dumped his remaining 350 feet of five-inch hose, 700 feet of three-inch and then a combined total 1,000 feet of hand line for use by other fire companies in the area. This is the standard hose complement for this apparatus, according to the captain.

Chief's Aide De Stefano ordered the Pleasanton engine brought down the hill to Slater and Alvarado Rd. where it was placed in line for the five-inch hose relay.
---
Alvarado Road Operations Part II
Table of Contents