---
'Every Woman Should Do Share to Win War,' Says Screen Star
BY EMILIA HODEL
---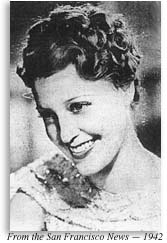 "Any work these days is war work," said Jeanette MacDonald, concert artist and Hollywood film star, who will give a concert tomorrow evening at the Opera House to benefit the American Women's Voluntary Services.
"Even if a woman is at home washing dishes she is in the war! I think every woman should make an extra effort to help in civilian defense now. And I do think that we are all eager to do whatever we can. I only hope, though, that overzealousness, won't make 'putterers.'
"I strongly believe in organized work, so that all this willing energy won't be dissipated."
Miss MacDonald is a member of the state board of directors of A.W.V.S. and one of the organization's sponsors in Southern California.
She explained that while she had no preference as to the organization with which she should work, she felt that she could do more to aid the newer organization.
She is giving a second benefit concert in Los Angeles on Friday for A.W.V.S.
"In the war effort people should try to do the work they are best qualified for. I am an entertainer so I try to raise money for the organization by my concert work."
The famous star has planned a popular concert for San Francisco, since she feels that her audience will prefer light music.
And she explained that she can give only the two California concerts at this time, since she is scheduled to begin a new picture next week.
"It is a spy story with music called 'The Shadow of a Lady,' It is a comedy–we hope," she laughed.
Miss MacDonald is just as beautiful as she appears in the Technicolor films you have seen. For her interview yesterday in her suite at the Palace Hotel she was wearing an ensemble of black and turquoise with a necklace of red-gold and turquoise. She explained that the dress had originally had green cuffs, but–even as you and I–she had seen the necklace and redesigned the dress herself to match the turquoise beads.
"I've just finished a hectic month getting my husband (Gene Raymond) packed and away. He is a lieutenant in the Air Force Combat Command.
"And as soon as I finish this picture I hope to go wherever he is and keep house. After all he is in the Army now and it isn't a film star's salary that he is being paid. I will probably cook and wash dishes. And I think I'll enjoy it very much for a while."
When Miss MacDonald motored here from Del Monte yesterday, she was met by a convoy of 50 Motor Transport cars and local police who took her on a tour of the city. With her were Mrs. Charles R. Jeffs, state executive director of A.W.V.S., and officers of the local organization.
---
San Francisco News
March 24, 1942
---
Return to top of page