---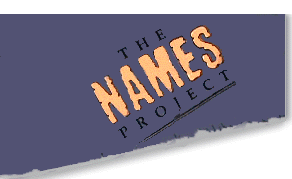 Sun Delivers World's Largest AIDS Memorial Over Internet; AIDS Memorial Quilt Brings Home Powerful Message for Worldwide AIDS Day
Sun Microsystems, Inc. is providing the technological backbone for the NAMES Project Foundation's massive undertaking.
The world's largest community art project and AIDS memorial is available for viewing at http://www.aidsquilt.org. The names and images which make up the AIDS quilt have been digitized and archived on a Sun workstation™ and server. In a collaborative effort — Sun, Informix, Argos, ECOlogic, and Masterlink — have announced a development project with the NAMES Project Foundation.
The NAMES Project Foundation is the non-profit organization that manages the AIDS Memorial Quilt (email: info@aidsquilt.org). There are 43,000 digitized images of the memorial quilt and 70,000 names available. It is expected that there will be 500,000 hits within a month of the site's launch. Visitors to the site will be able to access a wealth of information on the quilt and related activities surrounding World Aids Day on December 1, 1997.
"Sun has provided us with the robust and reliable equipment which we demand for this scale project," said Scott Croft, the NAMES Project's Online Systems Administrator and Webmaster. "We have been able to harness quantities of images and data which has previously been impossible for us to display. In our all-out war against AIDS this is the type of tool which can deliver powerful messages to the public at large."
"We are now able to take advantage of the Internet to a much greater degree," said Anthony Turney, Executive Director of the NAMES Project Foundation. "Businesses use the term mission critical in relation to making money — we use it in relation to saving and bettering lives."
The NAMES Project Foundation's mission is to "use the AIDS Memorial Quilt to help bring an end to AIDS." The organization works towards this mission through its Quilt display programs. Quilt display programs raise awareness of the HIV epidemic, which is a crucial tool in the prevention and eventual termination of HIV. As part of its mission, this virtual display is the NAMES Project's latest effort to expand access to the Quilt.
"It was once possible for the quilt to travel the world with ease, however, the quilt has become enormous," said Vicky Yee, Manager of Corporate Diversity for Sun. "Today the NAMES Project allows the quilt to travel to anybody, anyplace."
Since its inception in 1982, a singular vision, "The Network Is The Computer,"™ has propelled Sun Microsystems, Inc., (NASDAQ: SUNW), to its position as a leading provider of hardware, software and services for establishing enterprise-wide intranets and expanding the power of the Internet. With more than $8.5 billion in annual revenues, Sun can be found in more than 150 countries and on the World Wide Web at http://www.sun.com .
---
Sun Microsystems, Inc. news release
November 24, 1997
---
Return to the top of the page.