---
IN LOVING MEMORY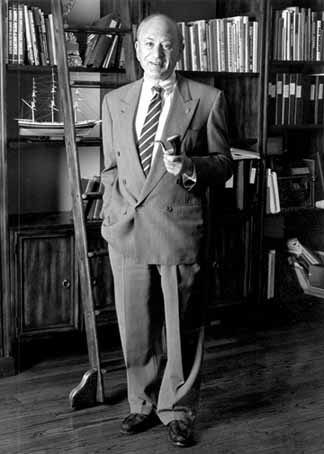 Edward Galland Zelinsky
January 1, 1922 - September 23, 2004
---
ORDER OF SERVICE
MEMORIAL FOR
EDWARD GALLAND ZELINSKY
The Congregation Emanu-El
Wednesday, September 29, 2004
Welcome ..........................................Rabbi Stephen Pearce
Eulogy..............................................Ö...George C. Fleharty
.................................Ö........................... Video Presention
Remembrances............................................Gary A. Gavello
.................................Ö......................Elizabeth Jason Kibbey
Sharing Memories of Dad.................Miriam Davina Zelinsky
Personal Reminisces.............................................Assembly
Closing...............................................Rabbi Stephen Pearce
Iím Free
Donít grieve for me, for now Iím free.
Iím following the path God laid for me.
I took Godís hand when I heard the call;
I turned my back and left it all.
I could not stay another day
To laugh, to love, to work or play.
Tasks left undone must stay that way,
I found that place at the close of day.
If my parting has left a void,
Then fill it with remembered joy.
A friendship shared, a laugh, a kiss.
Ah yes, these things, I too, will miss.
Be not burdened with times of sorrow,
I wish you the sunshine of tomorrow.
My lifeís been full, I savored much,
Good friends, good times, a loved oneís touch.
Perhaps my time seemed all too brief;
Donít lengthen it now with undue grief.
Lift up your heart and share with me-
God wanted me now, God set me free.
ďIím going now, back into the light againĒ
Easily among the most difficult of all tasks, is to talk about someone you knew who has just passed away. Your words are never adequate, and they never can be.
I first met Ed when I was working as the archivist at the San Francisco Public Library. He came to visit me to discuss a project he had been contemplating. He felt that our city deserved its own museum. Few places could boast a richer and more varied past, and wasnít it almost criminal that City Hall had done so little to preserve it in a befitting manner? Well, he wasnít about to get an argument from me! Over the following months, we had many meetings, usually at lunch at the St. Francis Yacht Club or near his office in Tiburon. Other people were enlisted as well, most notably Chris Martin, who would eventually provide a home for what would become The Museum of The City of San Francisco.
I could go on about Edís other contributions to the cultural life of our city, especially the priceless Maritime Museum and the fascinating Musee Mecanique, but that is for others to do. I shall try to talk about the man I knew, and the friend I had. I sometimes think that people are miniature universes hiding under deep cover. And often, their humble disguises are ingeniously good in concealing the complexities that lie beneath. Ed was such a person. On the surface, he was a practical businessman, ever on the alert for opportunities, and seeking out the logical courses to pursue after weighing all the pros and cons. But his practical temperament was always informed by a compassionate and generous nature. His fervent civic pride, more typical of a vanished age than today, fueled his vision to make San Francisco not only a better place to live, but also one whose people could appreciate the tremendous heritage that they have inherited. Ed was a fifth-generation San Franciscan, something he was rather proud of. He served on more committees, foundations, and trusts that served our city than I could possibly name. I cannot speak of his work for these other institutions, but if he served them with only a fraction of the care, attention, and support that he gave the museum, then I can say that they were blessed indeed.
We talked frequently. He would call me on his cellular phone on his way to, or from, his office in Tiburon. He would often interrupt our conversation at some point by saying, ďHold on, Iím entering the tunnel now, Gladys.Ē A moment of silence would pass, then Iíd hear his voice again: ďIím going now, back in the light again.Ē I will never hear his voice again, at least not on this side of that other tunnel that we will all one day enter. But I am sure that, after I too have passed through the darkness and into the light, Ed will be on the other side to greet me. And we will have much, so very much, to talk about.
GLADYS HANSEN
---
OBITUARY
Edward Galland Zelinsky
January 1, 1922 Ė September 23, 2004
A fifth-generation San Franciscan, Edward Galland Zelinsky passed away peacefully of pancreatic cancer on September 23. Co-owner of Main Street Properties in Tiburon, he was active in real estate and property management in San Francisco and other Bay Area communities. He was the owner of the Musee Mecanique in San Francisco, one of the largest private collections of coin-operated mechanical art in the world. Together with his wife Laleh, he co-founded the Tiburon Childrenís Film Festival. He was also founder of the Museum of City of San Francisco and active in various civic causes including the San Francisco County Fair, San Francisco Film Festival, National Maritime Museum Association, California Historical Society, and the Tiburon Peninsula Chamber of Commerce.
As an ardent maritime-history enthusiast, his interest in old sailing ships began with the restoration of the Balcluha in 1954 and continued with his efforts to save the historic landmark vessel S.S. Wapama and also the Vicar of Bray. He received the American Ship Trust award for distinguished service in 1995 and will be honored posthumously with the San Francisco Maritime National Park Associationís Maritime Heritage Award on October 14. He served as a Trustee of the World Ship Trust of London, England.
He is survived by his beloved whife Laleh S. Zelinsky; his loving daughter Miriam Davina G. Zelinsky; his devoted sister Barbara Z. Abrams of Belvedere; two children from a previous marriage, Dale Z. Jewell of Sebastapol and Daniel Zelinsky of Mill Valley; and four grandchildren.
Contributions may be made to:
C.P.M.C. Foundation M.D. Anderson Cancer Center
In Memory of Edward G. Zelinsky Pancreatic Cancer Research Fund
Pancreatic Cancer Research 1515 Holcombe Blvd
P.O. Box 45234 Box 426
San Francisco, CA 94145 Houston, Texas 77030
---
Acknowledgement
The Zelinsky family expresses thanks to all those who have offered expressions of love, sympathy and concern during this time of bereavement. Your kind thoughts and prayers are greatly appreciated.
The Family wishes to invite those in attendance to an informal luncheon at the St. Francis Yacht Club, on the Marina, San Francisco, immediately following the memorial.