---
FREDERICK MARRIOTT



Frederick Marriott, founder of the San Francisco News Letter and father of its present proprietor, was a native of Somersetshire, England, where he was born on July 16, 1805. After receiving an excellent education in England, he went to India for a time, and might have received a commission in the British army had he not waived the appointment in favor of a brother. Returning to England, Mr. Marriott took up literary work with enthusiasm and success, and was one of the founders of the Illustrated London News, which as continued to this day to be one of the leading British periodicals.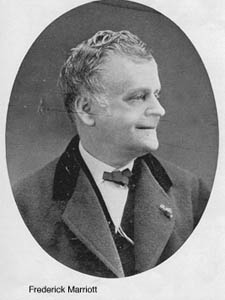 In 1850 Mr. Marriott came to California. His first venture was in the banking business, but his literary tastes and abilities led him soon to abandon this calling, and to resume his writings. In the early fifties he established a paper called the California Mail-bag, which was the immediate predecessor of the News Letter, which he founded as a result of the success of the less elaborate Mail-bag.

The first number of the News Letter made its appearance on July 20, 1856, just half a century ago. The paper has been issued regularly every week since that date, never missing a number—even after the great fire of this year.

From the outset, the News Letter was marked by the vigor of its editorials, the excellence of its abstract literary contributions, and the foresight and discernment of its policies on matters of importance to the leading interests of California, of which it has ever been an ardent champion.

Mr. Marriott made an invariable practice of encouraging young and ambitious writers, gladly opening his columns to any production, from whatever source, which had merit, regardless of the previous literary reputation of the author. Such distinguished writers as Bret Harte, Mark Twain, Frank Pixley, Ambrose Bierce, Daniel O'Connell, and many others who have since won fame and fortune, found in the columns of the News Letter the vehicle of their early efforts with the pen.

Mr. Marriott died in San Francisco on December 16, 184, when in his eightieth year. During the later years of his active life, his writings were as virile as ever, and his interest in the welfare of the land of his adoption remained keen until the last. After his death, the proprietorship of the News Letter passed to his son, Frederick Marriott, Jr., under whose management the paper is now conducted.




---
San Francisco News Letter and California Advertiser
July 21, 1906