---
Family Lyctidae (Powerpost Beetle) Infestation Temporarily
Closes the Mission Dolores — Bascilica to Remain Open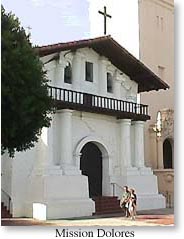 Mission Dolores has been attacked by powderpost beetles which are eating the statuary, artwork and structure of this historic California Mission. In order to save Mission Dolores from destruction we will be forced to close the mission church and museum, tent the entire building and have it fumigated. The schedule is as follows:
Monday, May 22, 2000 - The mission church and museum will be closed to all persons. The entire mission church will be covered with a tent and then fumigated. This does NOT include the Basilica.
Saturday, May 27, 2000 - The tent will have been removed and the mission church and museum will be open as usual at 9:00 a.m.
During this period the Basilica will be open and some gift shop items will be available inside for sale. We hope to have the cemetery open, but that is subject to a day-by-day evaluation of the safety of our guests.
Scaffolding will be temporarily erected around the old mission church and museum beginning on May 8 through about June 9. While handicapped access will not be available, the rest of the mission, except for the closure May 22 to May 26, will be generally accessible.
---
Communication from the Mission Dolores
May 2000
Return to the Mission Dolores page.
Return to top of page