---
The Marston Building
---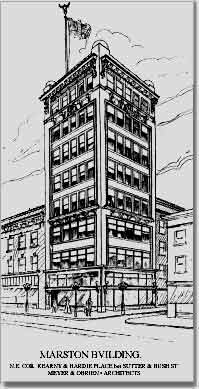 The Marston Building, 244 Kearny Street, near Post, is one of many small, elegant, buildings constructed downtown in the immediate post-earthquake period, and a surprising number of them survive.
Technically speaking, the building is a survivor of the Great Earthquake because its steel framework was already built, and most of its exterior walls were in place at the time of the disaster.
The "San Francisco Conflagration of April, 1906," written for the National Board of Fire Underwriters' contain these data about the Marston Building and its condition after the disaster:
"Height, 8 stories: 1,200 sq. ft. ground area.
Frame: steel, complete; apparently sound.
Floor arches and intermediate beams: reinforced concrete; apparently sound.
Column protection: concrete, solid; apparently sound.
Girders: concrete, solid; apparently sound.
Beams: Concrete, solid; apparently sound.
Exterior: brick complete to 7th story; extensive damage from shock.

"NOTE: -- There was a quantity of lumber and material on the premises. The upper parts of the unfinished side walls were thrown out and some damage was done to corners of brick-work from the shock of the earthquake or neighboring blasts."
---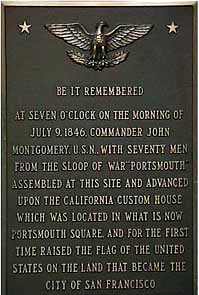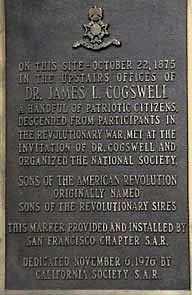 The site of the Marston Building has an interesting history. It was precisely there, Kearny Street and Hardie Place, Captain John B. Montgomery and his men from the U.S.S. Portsmouth assembled on July 9, 1846, before the march to the Mexican plaza - now known as Portsmouth Square - to raise the U.S. flag to claim California for the United States.
That plaque, and another to commemorate the founding of an organization by Dr. Cogswell, were removed from the lobby of the structure during a 1998 remodeling. Fate of the plaques is not known.
---
Return to top of page