---
Richard J. Jose (1862? - 1941)
---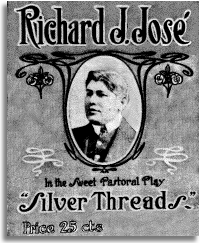 Richard J. Jose, countertenor and early recording pioneer, was a favorite of San Francisco and Western U.S. audiences from the 1880s into the early twentieth century. After retirement from the stage he served as the Assistant Enrolling and Engrossing Clerk of the California Legislature, and then as California Real Estate Commissioner in the 1930s.
Jose began his career in Sacramento with Charlie Reed's Minstrels, and later joined the well-known San Francisco minstrel troupe of Lew Dockstader. Famed Gold Rush-era diarist Alfred Doten wrote of Jose, as did San Francisco historian Oscar Lewis.
Jose appeared in the 1904 New York revival of The Old Homestead,first staged in 1887. In February 1906, Jose recorded, for Victor, "Nearer, My God, to Thee," (Victor 4818) from the show, which can be heard in RealAudio.
He lived for many years at 795 Sutter Street, and died in San Francisco October 20, 1941. He was buried in Colma.
Recorded-sound historian Tim Gracyk has carefully detailed the life of Richard J. Jose.
---
Return to the top of the page.