---
EXPERIENCES OF CAPTAIN CHARLES J. CULLEN,
ENGINE NO. 6 AND HIS MEN
---
Immediately after the first shake of the earthquake the doors of our Engine House [311 Sixth between Folsom and Shipley streets], shook open and all of our horses ran out into the street and escaped. It was with great difficulty that we got our apparatus out of the station, the floor being parted in the middle and the back of the house settled about three feet or more. Our first rescue was on both sides of the Engine House. At No. 313 Sixth St., the floor being parted in the middle and the back of the house settled about three feet or more. Our first rescue was on both sides of the Engine House. At No. 313 Sixth St., the place was completely wrecked and the bare foot of a child could be seen in a pile of debris. [This was the home of an on-duty firefighters from the station.] We cut our way into the premises with axes and shortly afterwards rescued three little children and five adults; at 309 Sixth St., the house was still standing but seemed to be in a dangerous condition, having partly caved in. The tenants consisting of three men, two women and three children were also rescued by my men.
The old familiar cry of fire was heard and turning our eyes from our work we beheld threatening flames rising from different directions. My crew was then divided into two squads; one half to fight the flames and the other half immediately proceeded to remove the people injured in their homes. We then proceeded to clean away a perfect net of electric wires which had fallen into the streets. Coupling our Engine to the hydrant located on Sixth St., between Folsom and Clementina streets, we found it impossible to obtain any water from this hydrant and our Engineer not abandoning all hopes of obtaining it, made connections and succeeded in drafting the water left in this broken main. We immediately coupled on another line, and our combined efforts were awarded by being able to stop the fire from crossing Sixth St.
At this time my crew helped rescue a man and woman from the Corona House [on the northwest corner of Sixth and Folsom], approximately forty people were killed by the collapsing of this hotel. The two survivors rescued were pinned on the top floor near a skylight. Our crew after chopping away the debris was able to remove these people from the ruins. Our water supply gave out and the fire was then raging around our Engine. It would have proved fatal for us then to stay here any longer and with wet sacks around our heads we assisted our Engineer to uncouple his apparatus and pull the Engine by hand along Folsom St., and stopping occasionally we tried to obtain water from the sewers, only to find them dry or filled with mud; finally on Fifth Street, we succeeded in drafting a small amount of water from a sewer and hopelessly tried once again to fight the fire but the flames had crossed at Fifth and Folsom streets. At this place we made a desperate attempt to save our hose but the heat became so intense that it proved impossible; and to save our Engine we had to move westward, and abandon our hose in the middle of Fifth Street between Folsom and Clementina streets. No more water could be obtained so we started in lifesaving by carrying people out of houses to places of safety.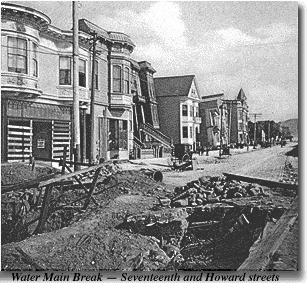 Later on we again started fighting the fire at 11th and Bryant streets, obtaining some water from the premises occupied by a Light and Power Concern [powerhouse of United Railroads] and with this succeeded in saving a few Manufacturing plants located in this neighborhood. At 11 a.m. Thursday the fire being well beyond danger at this point we again picked up the remaining hose in our possession and proceeded to 17th and Howard streets there being considerable water in a large hole in the middle of the street owing to a broken main, with stones and sand we dammed the water that was running to waste and put our Engine to work after stretching hose as far as Capp St. near 16th St. here we had a very hard fight as the wind was blowing the intense heat of the fire in our direction. Soon it became unbearable and as the fire was gaining on us we could not stop it from crossing Capp St. but after fighting every inch of the ground we succeeded in getting it under control at 20th St.
The men composing my crew were Lieutenant E. Daunet, Engineer P. Brandon, Driver J. McDonald, C. Neil, Stoker; and Hoseman J. Titus, Anton Swanberg, McGrovey, J. Crowley, F. McDermot and J. Doherty. We were on duty continuously for 55 hours.
(signed) C.J. Cullen
Captain Eng. Co. No. 6
---
Return to 1906 Earthquake and Fire Report.
---
Return to top of page.