Charles Pierce (1926 - 1999)
Born July 14, 1926 in Watertown, New York
Died May 31, 1999, North Hollywood, California.
---
By Peter Mintun
June 1, 1999
Hear Charles Pierce's impressions of Jack Benny and Marlene Dietrich in MP3.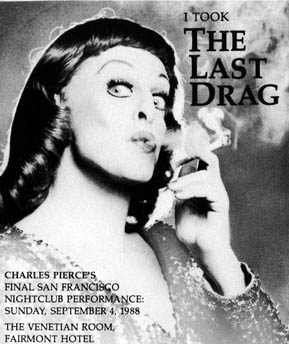 Actor and night club performer Charles Pierce, the "Master and Mistress of Surprise or Disguise," died peacefully in his North Hollywood home on Monday evening, May 31. He had been battling cancer, complicated with a stroke. He was seventy-two. His career included acting, radio announcing, but as a female impersonator, Pierce has left his audiences weak with laughter, and brightened their lives with his wicked and sometimes irreverent impressions of film stars, ranging from Bette Davis, Joan Crawford, Tallulah Bankhead, Carol Channing, Katharine Hepburn and even "Mrs. Olsen" of the Folgers coffee commercials. His career took him to London, New York, San Francisco, Miami Beach, Los Angeles and Chicago. His show at the Dorothy Chandler Pavilion was videotaped and broadcast on the Playboy Channel. His engagements at the Henry Fonda Theatre (Hollywood), Ballroom and Village Gate (Manhattan) and the Fortune Theatre (London) were all sellouts. During his illustrious career, he has been toasted by celebrities around the world, including Tommy Tune, Anita Loos, Beatrice Arthur, Eugenia Bankhead (the sister), the Incomparable Hildegarde (with whom he appeared at Town Hall in New York), and Stephen Sondheim.
In the mid-1990s he retired, having lost his manager and dresser to the AIDS epidemic. He made a few appearances for special events, such as author/actor Charles Busch's highly successful Town Hall drag summit show in New York City, which featured Milton Berle and all the best drag acts. (Busch, who is working on a film, could not be reached for comment). In the last couple of years, Charles gathered together all his scrapbooks photographs, programs, recordings and videotapes and shipped them to the Performing Arts Library of Lincoln Center, New York. By May, 1999 the materials were catalogued by the staff, and are now available to researchers.
Born on Bastille Day in 1926, Charles was named after his grandfather, Dr. Charles E. Pierce, and spent his youth in Watertown, New York. Beginning around 1944, Charles worked at a local radio station WWNY, playing the Hammond organ and acting in radio dramas. In a vintage photo taken at the station, 18-year-old Charles, seated at the organ, is shown looking at the sheet music of "They're Either Too Young Or Too Old," a song Bette Davis sang in the Warner Bros. film Thank Your Lucky Stars.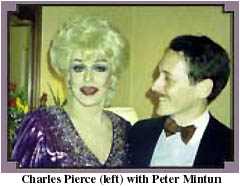 It was not easy for the critics to describe Charles' unique act, but when they did, he would happily appropriate the description. Apparently it was Herb Caen (in whose San Francisco Chronicle gossip column Charles appeared 50 times) who dubbed Charles a "male actress." Another description Pierce enjoyed was "the Master and Mistress of Surprise or Disguise." When he played the Fairmont Venetian Room in the 1980s, the ads showed Charles as Bette Davis, holding a smoldering cigarette, with the caption, "The Last Drag." Charles' first stand-up comedy routines were naively costumed. In a radio interview with me in 1983, Charles said, "Through the years the act has had a lot of phases. I originally started in a tuxedo with a box of props. Then I started working clubs in Florida that required a lot of changes in material, so then I started working more or less in drag, and I say 'more or less' because Florida [laws] were very strict: You could wear black pants, you could wear a black turtle neck sweater, but you could not wear a dress. You could put feather boas on, and hats and gloves and pocketbooks, but you couldn't be in drag. And so we did a lot of pantomimes, and then I would do my 'live' material (maybe 10 minutes) at the end of that show. Eventually we ended up here in San Francisco (When I say 'we,' I refer to my partner at that time, Rio Dante), and we 'holed up' at the Gilded Cage for six years. We did a lot of pantomimes, and Mae West's [rock and roll] 'Treat Him Right' was one of them."
In this same interview, Pierce told me he never took the impersonations too seriously, "I've been billed as the 'stand up comic in a dress' or 'the grand impostor,'...but it's all for laughs, it's all for fun and comedy." Through the years, Charles' reputation built up from playing small gay clubs around the country, but San Francisco embraced him as no other town.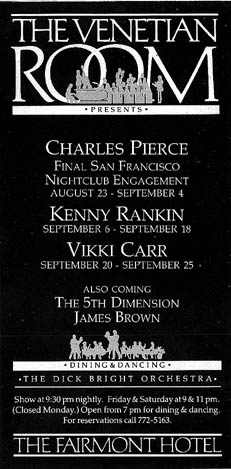 John Wallraft, who attended the Pasadena Playhouse with Charles in 1947-48 reminisced: "He wanted to be a stage actor. He raced around Hollywood trying to get jobs. He went to a theatre group called Cabaret Concert, doing sketches a la Noel Coward. Back at Pasadena Playhouse, he played in Richard III and played the Ghost of Christmas Past in A Christmas Carol, Pierce also did some summer stock in upstate New York before returning to California. He had gone to see Arthur Blake — who did famous impressions of Bette Davis, Charles Laughton, and Tallulah Bankhead. Charles submitted some material to Blake, but Blake told him he wrote his own, so Charles said 'I'll use it myself!' While Living at Algonquin Hotel in Pasadena, in the early '50s, we went to see The Star with Bette Davis. Charles decided it was fodder for a comedy parody, and performed it for me in his apartment. Charles and I started writing material, such as the Norma Desmond routine. At a Hollywood party, he played for a group that included Harriet Parsons (Louella's daughter), Jane Withers, Franklyn Pangborn, and Mary McCarty. Charles did the tux bit in Altadena at Cafe La Vie, doing stand-up seriously. At various bars, he would improvise. Eventually Ann Dee, of Ann's 440 (San Francisco) saw him in Altadena and signed him up for her club, where Johnny Mathis later got his start.
"He then traveled to Florida, to the Red Carpet (Miami Beach) and the Echo Club. In Miami he met his future showbiz partner, Rio Dante, and they started to do lypsynching. They also created the puppets (The Moppettes), headless puppets Charles would put up to his own face and then perform outrageous dialogue and suggestive poses — with the likes of Shirley Temple, a Singing Nun, and a stripper. Rio Dante and Charles did a gig at the Statler Hotel in Hollywood and the Club Capri. Next stop was San Francisco's legendary Gilded Cage, around 1962, where he played a record six years. He made many appearances on television, but not always in drag: Wonder Woman, Designing Women, Fame (as a bag lady), Wayland Flowers and Madame, Love American Style, Chico and the Man, Starsky and Hutch, Laverne and Shirley, and the talk shows of Dick Cavett, Merv Griffin, Mike Douglas and Regis and Kathy Lee."
Through the years, Charles has had the best musical directors/accompanists in the business, and they all admit to having learned a great deal about comedy and timing from Mr. Pierce. Those who have accompanied him include Michael Biagi, Michael Ashton, Joan Edgar, Rio Dante, and Michael Feinstein (Backlot of Studio One, September, 1981). That's three Michaels, a Rio and a "real woman," as Charles used to call Joan in front of a screaming, adoring audience. Joan Edgar, Charles' musical director for seven years, told me yesterday how she marveled at the way he would constantly work on his act, even up to the final performance. At the end of a three-month run, just before the final show, in his dressing room he remarked, "Darling, you know that line where I say that our theatre curtain used to be Orson Welles' boxer shorts? Well, it would sound funnier if I said 'It was one of Kate Smith's slack suits.' You see, the sound of all those consonant 'ks' make it sound funnier...or, how would it sound to say Rosemary Clooney's caftan?"
Restaurateur Les Natali, who produced several of Pierce's shows at Bimbo's 365 Club in the early 1970s (a Blue Thumb LP was made of this show!) remarked, "I've had the pleasure of knowing Charles as a fan and a friend for thirty years. He was always fun to be with, on stage and off, so witty, so sharp, so perceptive, and always ready with a line to provoke a laugh. What made Charles happy was making other people happy. And he was the best. I will miss him dearly."
Billy Saetre, a professional singer/friend of Pierce living in Munich, remarked, "There is a genuine warmth and love of the 'art' of performing that so few folks have anymore. Of course being in the classical branch of performing, I see a completely different side of this silly world, where 'genuineness' is absolutely foreign. There is such a love of humor with Charles, and when he blows a line, or messes up a joke/story, he relishes in his own embarrassment as well as getting himself out of the situation... I remember crying at his last show when he sang "Illusion" (an old Dietrich number). There is something so poignant about him and his connection with an audience ... Charles Pierce completes the information from Alpha to Omega. Everything the audience not only wants, but needs to know, is shared. No silly nonsense or mystery there. Gott sei Dank!"
Russ Alley (General Manager of the York Hotel and Plush Room 1980-1983) produced more than 500 performances of Pierce at the York Hotel's Plush Room. Alley later went to work at the Fairmont, as director of Public Relations and Entertainment, for Rick Swig. It was there that Alley convinced Swig to hire Charles Pierce, by showing him how Pierce's revenue had "saved" the Plush Room from closing. Alley remarked, "I had been trying to sell Charles to [the Fairmont] for years. I showed Swig the numbers , and told him 'Herb Caen will love it.'" And he did.
Alley told me yesterday, "No matter how many friends we have lost over the years, it is always hard to picture this place without them. There will never be another Charles...or a better Katharine Hepburn as 'Eleanor of Acquitaine' (turkey waddle!) Maria Ouspenskaya (one of his Turban Ladies) Bette, Tallulah, those ratty foxes of his from way back... Dietrich 'I was on a fwight fwom pawwis to Los Angewis and both of my wegs were on the fwight wif me; one in first cwass and the other in coach...', and of course Jeanette MacDonald and that swing. So many great memories."
John Epperson (The Fabulous Lypsinka) upon hearing of Pierce's death, remarked, "Charles Pierce, the self-described 'male actress,' was one of the funniest people in the world. He was also incredibly generous. He had many successes at The Ballroom, a nightclub in New York City. In 1991, when the management asked him to please come back again, he said, 'Call Lypsinka instead.' He was sorely missed by all of his fans for the last several years in all the venues where he was so popular. I know he will be greatly missed by his good friend Bea Arthur. When I saw Charles at The Plush Room many years ago, he acknowledged Bea, in the audience, as having the greatest comic timing in the world. He should know: Charles had the second best. Years later, I was performing in Los Angeles, and he brought Bea to my dressing room door and she intoned, 'You're mad, darling. Simply mad.' (Thank you for that, Charles!) A couple of years ago I saw Bea at a Bob Mackie fashion show in New York. She said, 'Is there anything you want me to tell Charles?' I said, 'Please tell him hello.' I wish I had said, 'Tell him he's an inspiration.' For the name 'Charles Pierce' meant 'magic' and what he would call 'madness.' People who never saw him as Tallulah and Bette Davis—at the same time—don't know what they've missed. (People who don't know Tallulah and Bette don't know what they're missing!) People who did see Charles' act know they saw a comic mastermind."
---
Addendum:
Vintage quotes from the press:
"There's nothing wrong with showbiz that talent can't cure. By talent I mean Male Actress Charles Pierce, who, outrageously gowned..filled Bimbo's wall-to-wall five nights running last week. He returns July 20, and don't miss him! Unless you think that camping is something that belongs only in the great outdoors. Charles is an indoor camper, and the best!" —Herb Caen, San Francisco Chronicle

"A phenomenal occurrence! Pierce did all the great favorites, Bette Davis, Mae West, Tallulah Bankhead, Joan Crawford, Katherine Hepburn — and did them brilliantly. It was a virtuoso performance. The place, quite simply, freaked.. Frank Sinatra should get such good audience response!" —John Wasserman, San Francisco Chronicle

"Classically camp, deliriously happy and funny! Utterly unbelievable..the Charles Pierce show was rich, ripe and grand theatre!" —Philip Elwood, San Francisco Examiner

"Tom Jones is a hot ticket. Elvis is a hot ticket...according to the Downtown Center Box Office, the most scorching ticket since Elvis Presley last fall, is Charles Pierce!" —John Wasserman, San Francisco Chronicle Datebook.
---
A memorial service was held at Church of the Hills, Forest Lawn Memorial Park and Cemetery, Hollywood Hills, California, Saturday, June 19, 1999. There are no immediate survivors
---
See Kevin Bochynski's Charles Pierce tribute page.