---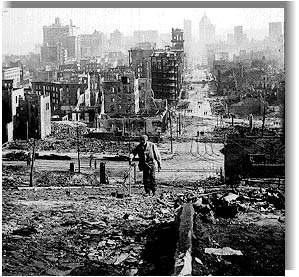 Wreckage of the city as seen from Kearny Street, above Broadway. The steel skeleton in the center of the picture, at Kearny and Columbus streets, is the Sentinel, or Reuf Building. It was under construction at the time of the earthquake, was repaired, and is still standing.
Wreckage of the Hall of Justice is in the center of the picture, and the Call Building can be seen through the haze. The tall building to the left is the Merchants' Exchange Building in the 400-block of California St., also a survivor.
---
Next Photograph or
Return to 1906 Photo Exhibit Page.